This week in WordPress
The countdown is on to WordPress 6.0 next week
For some analysis, the

WooCommerce Roundtable Dives Into WordPress 6.0

on the Do the Woo podcast, featuring WooCommerce Partner Marketer Ronald Gijsel, OSTraining CEO Robbie Adair, Cloudways Director of WordPress Robert Jacobi, and XWP Senior Product Designer Tammie Lister.


If you haven't yet checked out what WordPress 6.0 looks like, PootlePress owner Jamie Marsland shares short demos of the most important features for site builders in his video

WordPress 6: The Most Exciting Update Ever?




Also, "Can you believe core contributors have already started bug scrubs for 6.1? I guess you can never start too soon," says Birgit Pauli-Haack in the

Gutenberg Times Weekend Edition 215

.


Meanwhile, "What's trending among the #FSE themes in the theme directory?"

tweets

Carolina Nymark, a Yoast-sponsored core contributor, who shares some of the trends she's seeing with full-site editing themes in the WordPress repository. Her thread covers data like common color slugs, version of theme.json used, font-size slugs, and even common blocks styled in theme.json.
Does WordPress market share matter?
Bisset and Post Status Editor Dan Knauss followed up the podcast with a tidy summary of the market share debate:

Does Market Share Matter?




"WordPress is and will continue to be the dominant CMS on the web. Even if market share is shrinking, there isn't going to be a single player CMS that will usurp WordPress. (WooCommerce is a different story),"

tweets

Christina Warren, Sr Dev Advocate at GitHub, who adds, "For better or worse, WordPress is the Windows of CMSs."


Edupack CEO Blake Bertuccelli,

tweets

, "WordPress' shrinking market share is our chance to streamline internet resources and promote #opensource with MEGA-NETWORKS."


WP Mainline's Jeff Chandler

tweets

, "WordPress marketshare drops a bit, mass hysteria ensues. I'm on the scene and all of the anti Gutenberg people are pointing at WordPress folks and chanting "see, I told you so". Meanwhile, We all know WordPress ain't getting to 50% without Jetpack." He links to Sarah Gooding's 2015 article

How Important is Jetpack on WordPress' Road to 50% Market Share?

at WPTavern.


Meanwhile, "I start doing something not WordPress for my day job in late January, market share starts declining in February. Coincidence?

🤔

"

tweets

WordPress OG lead developer Helen Hou-Sandí, who's now the Senior Software Engineering Manager for GitHub's Special Projects team.
Business Spotlight: LearnDash
LearnDash is taking cutting-edge e-learning methodology and infusing it into WordPress. We're trusted to power the learning programs for major universities, small to mid-size companies, startups, entrepreneurs, and bloggers worldwide.
Is WordCamp US sponsorship too expensive?
After WordCamp US put a call out for sponsors last week, GiveWP founder Devin Walker questioned the high cost,

tweeting

, "'This year's event will bring together 650 members of the WordPress community.' Fewer attendees, more expensive sponsors. Would you spend $30-60k to sponsor and only reach 650 people in person?"


WordCamp US organizer Cate deRosia

tweets

, "For WCUS, I know the smaller attendance was factored into sponsor prices. There are too many different factors to compare WCUS to WCEU."


"Hell no. 😂 just show up in your team swag and shake hands. Sponsoring WCs had negative ROI,"

tweets

LearnDash founder Justin Ferriman, to which Walker

replies

, "There's ROI at WCs if done right I believe. Measuring it is another thing entirely. For this camp though I'm not so sure. The actual number of people you're targeting is actually less than 650 seeing as a good hundred or so of those folks would be sponsors anyways."


WordCamp US organizer Kathy Drewien tries to explain,

tweeting

, "#WCATL and #WCMIA both have significantly lower venue costs than #WCUS 2022 for a similar number of participants. We, the [WordCamp US] organizer team, believe the quality of attendee/sponsor interaction will be greater this year."


But ultimately…. "I don't know the answer to the question, but I'm enamored by that bald guy in the featured image. They attract good lookin' folks to that event,"

tweets

Ben Meredith, Director of Customer Service & Support at LiquidWeb.
Kim Parsell Memorial Scholarship to be awarded this year
After a two-year hiatus due to Covid-19 and the ban on major WordCamps, the WordPress Foundation's Kim Parsell Memorial Scholarship returns in 2022.


The scholarship

honors the late Kim Parsell

, a much-loved contributor to the WordPress Docs Team who was affectionally known in the community as #wpmom.


The scholarship is awarded to someone who identifies as a woman, is a WordPress contributor, has never attended WordCamp US before, and needs financial help to attend.


Since the scholarship wasn't awarded in 2020 and 2021, there will be three scholarships awarded this year for 2022, 2021, and 2020. Applications close on June 26, 2022.
#WPCommunityFeels: Alice

Orrù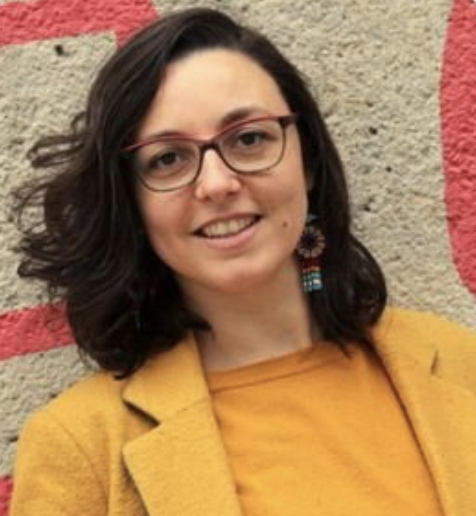 This week, what's inspiring Alice

Orrù

, a multilingual content writer and translator with a penchant for accessibility, software localization, and WordPress. Alice created Ojalá, the first newsletter in Italian about inclusive and accessible communication.
A podcast worth listening to:

Short Cuts by Josie Long

. I started listening to this podcast during the first lockdown of 2020. It's based on short sound documentaries, stories of people from everywhere, and the sounds of the environment surrounding the people being interviewed have a prominent place. It feels like you're there with them. Maybe that's what made me fall in love with this podcast: it allowed me to travel and listen to people as if we were having coffee together at a time when it was impossible to do so.


A concept worth understanding: There is no inclusion without accessibility. These days the term inclusive is all over the place, and everything claims to be inclusive: from language to marketing campaigns, from movies to events to architecture... But too often we forget that what is not accessible to all people, including those with a disability, cannot be called inclusive.


A Twitter account worth following: Alexa Heinrich (

@HashtagHeyAlexa

) is a social media strategist and speaker specializing in accessibility. I really like what she does and how she says it. Plus she is really generous in her sharing of free resources for anyone who wants to learn how to use social media in a more accessible way.


An article worth reading: The Pudding's articles would all be worth reading, actually, because they are wonderful and enhanced with incredible data viz! This piece in particular explains very effectively how newspapers offer an often distorted representation of women:

When Women Make Headlines

.


A habit worth forming: Reading is my best habit, so I'd say: read something new every day, whether it's a few pages of a novel, an essay, a graphic novel, or an in-depth article from a newspaper you appreciate!
Contributing to WordPress Accessibility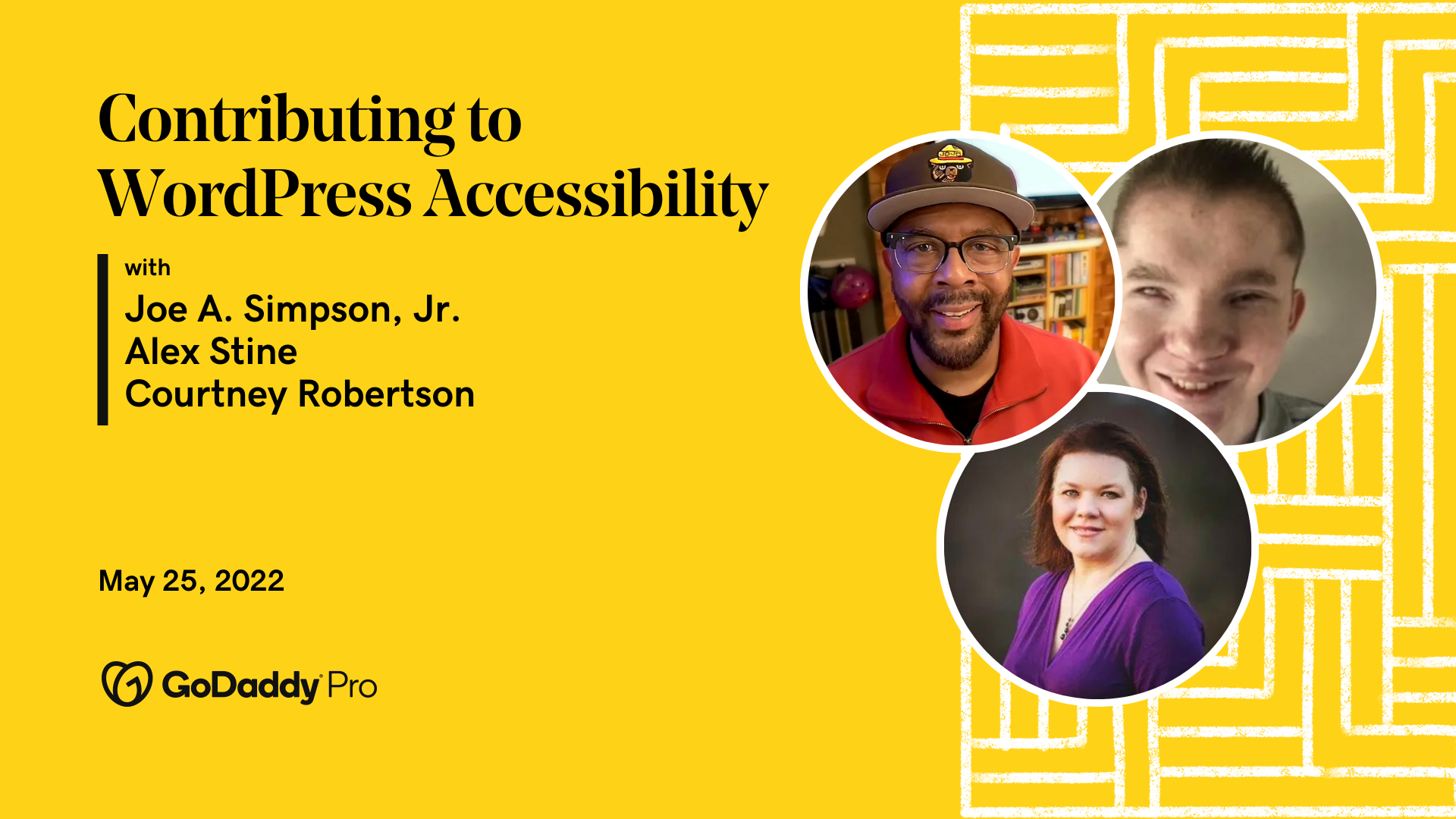 All this month, we've been talking about accessibility on the web. From accessible content to SEO and social media, this all-too-important topic doesn't get nearly the attention it deserves. With our final meetup of May, we thought we'd bring in some real experts—experts that rely on your accessibility efforts to navigate the web and use the products you create!


In this session about contributing to WordPress accessibility, team reps for the WordPress Accessibility Team, Alex Stine and Joe A. Simpson Jr., join us to discuss the benefits of contributing to the WordPress project and ways that you can get involved. Even if you don't write code or have the time to devote to ongoing accessibility work, you can help out by testing new iterations of WordPress—a win-win for the project and for your clients!


RSVP to learn more about the WordPress Accessibility Team and testing future release of WordPress!


This free virtual event is presented by GoDaddy Pro and will take place on Wednesday, May 25, 2022.



In other WordPress news...
Not subscribed? Join the most conversational weekly email
in the WordPress community!