This week in WordPress
Elementor sacks 15% of its workforce, cites impending recession
Elementor is laying off 50-60 of its employees, mostly from its marketing department. And as CTech's Meir Orbach reports, Yoni Luksenberg, the company's co-founder and CEO, has blamed the "… changing global situation with rising inflation and a pending recession" for the decision.


Among those ousted is former VP of Marketing Yam Regev, who shared on LinkedIn that "Me and Elementor are splitting our ways 💕👋💕."


Founded in 2016, Elementor employs around 400 people and—according to the company—powers 7.4% of all global websites. The news comes just a week after the company announced it had acquired static WordPress hosting platform Strattic.


"This is the first WordPress company I've heard of citing the current economic climate for layoffs," tweets WP Engine Engineering Manager Chris Wiegman. "This is pretty new territory for the WordPress industry. Thoughts are with people who've been made redundant," adds Ellipsis Marketing Managing Director Alex Denning.


In Post Status Slack, Yoast founder Joost de Valk notes, "growth and profit are distinctly different things, and with raising capital becoming (much) harder, [Elementor are] lengthening their runway and tightening their belt." Patchstack co-founder and CEO, Oliver Slid, adds, "Everyone trying to bring their burn down because it's better to go through the potential recession with slower growth and better stability than raising money on shitty terms."


James Giroux, StellarWP's Director of Brand & Product Marketing, tweets, "Both @envato and @elemntor have announced significant redundancies in the last few weeks. My thoughts are with all those impacted by these changes. My take is that this is not a reflection of the #WordPress ecosystem but of individual business needs." Awesome Motive founder and CEO Syed Balkhi adds, "Definitely not a reflection of the #WordPress ecosystem. We're hiring @AwesomeMotive."
Tumblr and Day One are now using Gutenberg blocks
WordPress co-founder Matt Mullenweg shared the news at WordCamp Europe where he also started his belief that "Gutenberg can be a bigger contribution to the world than WordPress itself."
Following the announcement, Gutenberg lead architect Matías Ventura tweeted screenshots of what the Gutenberg editor looks like in the Tumblr and Day One web apps, adding "I'm personally looking forward to when you could just copy and paste blocks between platforms like you do with patterns!"
GiveWP founder Matt Cromwell tweets, "It feels a lot like what Classic Editor folks ACTUALLY wanted instead of full-fledged Gutes. I had to login to see it myself, and yes, it looks exactly like what you see…"


"If anyone needs me, I'll be over here, waiting for someone to put Tumblr in my Gutenberg," tweets Jason Cosper, a WordPress Product Advocate at Dreamhost.


Gooding also reports that HASH, the venture-based startup developing the Block Protocol (read more in issue #109), is looking to hire a WordPress plugin developer. She notes, "When the Block Protocol project was announced, it didn't seem likely that it would use Gutenberg as the basis for its spec. However, the wide usage of Gutenberg across the web cannot be ignored. This forthcoming plugin appears to be more like a bridge or connector that ensures Gutenberg is still relevant in the Block Protocol ecosystem." Where will we see Gutenberg turn up next? It seems we'll soon find out.
Gutenberg lead architect reveals what WordPress admin could look like in future
Speaking of Matías Ventura, he has shared some "very early" concepts of what the admin interface could look like as the

WordPress

project edges closer to entering the third phase of

Gutenberg

, collaboration.
GiveWP co-founder Devin Walker tweets, "Nice preview of what could be coming next for the WP-Admin interface by @matias_ventura 👏 My first impressions are positive. I like the "drawer" style sliding effect. Makes it more seamless between frontend and backend." Matt Cromwell, who also co-founded GiveWP, adds, "So nice. I remember my excitement when MP6 was released (the current admin scheme). This new refresh is also super exciting. Let's do it @matias_ventura!"


James Giroux tweets, "I had the chance to hang out with @matias_ventura at #WCEU and it was such a great conversation about WordPress and Gutenberg. He's one of those people who we are extremely lucky to have leading and influencing the project."


MasterWP Editor Brian Coords tweets, "Great post and also great to see the WordPress is moving away from trying to look like Medium and moving towards trying to look like Squarespace."
Business Spotlight: LearnDash
LearnDash is taking cutting-edge e-learning methodology and infusing it into WordPress. We're trusted to power the learning programs for major universities, small to mid-size companies, startups, entrepreneurs, and bloggers worldwide.
Gutenberg 13.4 features support for button elements in theme.json, axial spacing, and sidebar design updates
Gutenberg 13.4 is now available. Highlights in this version include support for button elements in theme.json, axial spacing in the Gallery Block, sidebar design updates, Search Block variations that now support query vars, and performance improvements.


For a deep dive into Gutenberg 13.4, Dave Smith, a JavaScript developer at Automattic who contributes to Gutenberg, joined co-hosts Birgit Pauli-Haack and Mary Job on the latest episode of the Gutenberg Changelog podcast.


Matt Report: What's up with the WordPress vibe?
"If you're up for a good rant, this is the episode for you," says Matt Medeiros, who flies solo in the latest episode of the Matt Report podcast and asks What's with the WordPress vibe?


He covers the rollercoaster of change that has been happening of late in the WordPress space. Or as Bertha.ai co-founder Andrew Palmer succinctly sums up, "Current vibe: funding, acquisition, sponsorship, online/offline summits, funding, acquisition, sponsorships. Layoffs."


Medeiros also delves into a favorite topic of WordPress media types: how to secure funding when no one wants to pay for news. He heaps praise on Howard Development & Consulting for leveling up MasterWP as a media brand since acquiring the business in February.
"Thanks for the plug @mattmedeiros — we are honored to be part of your rant (in a good way!) 😂" tweets MasterWP.


Meanwhile, do WordPress business owners feel like they are in—or moving towards—a recession? Not really, according to WPMinute Twitter poll. Of the 38 respondents, most business owners are doing just fine (55.3% answered "no"), some are worried (15.8% answered "yes"), and almost a third say "it's complicated" (15.8%).
BlackPress at WordCamp Europe

Destiny Fox Kanno, a co-organizer of the BlackPress Slack group, hosted a small meetup for Black WordPressers at WordCamp Europe this year. We wanted to hear how it went.
Give us a brief summary of the meetup. The who, what, when, where and why?
With WordCamp Europe being the first in-real-life WordCamp event since Covid, we were eager to take advantage of this to meet and connect with fellow BlackPress members. It was also a large opportunity to bring more folks into BlackPress who may not have known it existed.
The first event ended with us changing venues, but a total of four BlackPressers attended; Destiny Kanno, Santana Innis, Gina Innocent, and Thelma Mutete.
We had a follow up lunch event the next day that was attended by 5 BlackPresses: Destiny Kanno, Gina Innocent, Kevin Simpson, Rachel Winchester, and Rich Tabor.
What was the organization process like for getting people to that event?
We had this
event page set up here
on Meetup to bring visibility in the group and advertised within the BlackPress Slack. Our space was limited, so our first priority was to ensure current BlackPress members could attend. In the end, there weren't many current BlackPress members able to go to WCEU, so the signup for the event was low. However, due to being on location and networking efforts, we were able to bring new folks into the fold.
What was discussed during the meetup? Were there any highlights to the conversation you'd like to share?
We discussed the very real need for a group like this to help connect other BlackPressers across the globe, delved into ideas for future speaker events and shared our own personal experiences working with WordPress.
It was a couple of folks' first WordCamp, so we were so excited to be able to make BlackPress a part of their first WordCamp experience as well.
When do you think the next in person event will be?
We encourage members to arrange for local meetups when able, but we are currently hoping to have another local meetup during WordCamp US this September. This is still in the planning stage, but the event will be posted on our Meetup just as with WordCamp EU.
Accessible Website Architecture and UX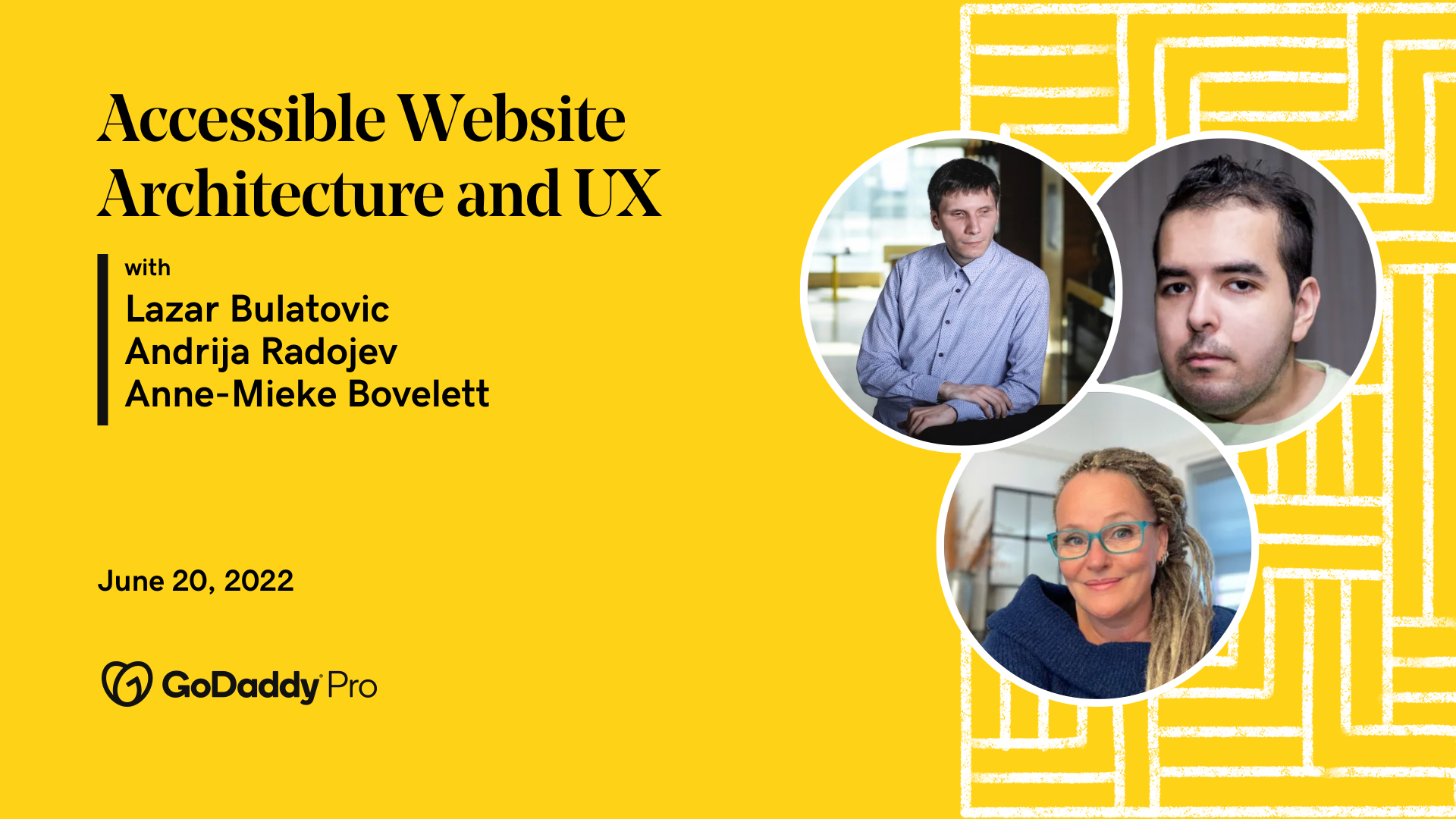 When we speak about website design, we primarily talk about the aesthetics: color schemes, images, layout, text size, and fonts. But there is so much more going on behind the scenes that determines whether the design is user-friendly, inclusive, and accessible!


Website content architecture improvements—such as consistent navigation and clear sitemaps—are features that can improve the browsing experience, especially for those relying on assistive technologies.


Next week, join our panelists Lazar Bulatovic, Andrija Radojev, and Anne-Mieke Bovelett and prepare for an interesting journey of website tours from the perspective of users with visual impairment.


This free virtual event is presented by GoDaddy Pro and will take place on Monday, June 20, 2022 at 1pm EDT.


Read more and register here.

In other WordPress news...
Not subscribed? Join the most conversational weekly email
in the WordPress community!