This week in WordPress
WordPress Executive Director Proposes Renaming Full-Site Editing
Kicking off this week, "If you have Opinions™️ about the name 'Full Site Editing' in WordPress then please add your thoughts to this post," tweets Automattic-sponsored community contributor Hugh Lashbrooke, linking to WordPress Executive Director Josepha Haden Chomphosy's proposal to give Full-Site Editing a more user-friendly name.


Sarah Gooding covers the story at WPTavern: WordPress Contributors Consider Renaming Full-Site Editing. As Gooding reports, "Contributors who work in WordPress every day may not be fully aware of how specialized some of these terms are and how little they mean to a newcomer. Haden Chomphosy proposes WordPress adopt a new term that is 'immediately meaningful for new users of our software, while also being an easy to reference term for all of us building and supporting the software.'"


"Site editor" is one of the most popular suggestions so far, with contributors also suggesting "Template Editor" and "Theme Builder," as well as "Builder" and "Site Builder." Some want to continue using "Full Site Editing."


While the comments below Haden Chomphosy's proposal are constructive, the ones below Gooding's article are critical of Full Site Editing. Anonymous Tom comments, "This is getting funnier and funnier. When the product is the problem some people get the bright idea that all they need is a rename."


Meanwhile, David Waumsley, who runs WP Corner Shop, reminds us, "Elementor crossed the 10 million [website] mark after targeting the term Full Site Editing."
Sitecare Acquires Long-time Competitor Maintainn
In acquisition news, WordPress maintenance and support company Sitecare has acquired long-time competitor Maintainn from WebDevStudios.


In an announcement on the WebDevStudio's blog, Marketing Strategist Laura Coronado says, "WordPress acquisitions are happening all around. While the departure of Maintainn from our group of companies is bittersweet, the change allows for WebDevStudios to focus on large-scale website development."


The WPMinute's Matt Medeiros notes, "The landscape of monthly WordPress support companies has certainly changed since these two OG's launched in 2012-2013. Sitecare plans to double-down on their packaged monthly services while WedDevStudios continues to expand their enterprise WordPress business."


WebDevStudios COO Lisa Sabin-Wilson tweets, "SiteCare has acquired @webdevstudios' Maintainn division. Everything SiteCare does is underpinned by a drive to help clients achieve amazing things. That's how we know we are placing our clients good, solid hands. Congrats @drewbarton & @gositecare team!"


This is SiteCare's second acquisition of a WordPress maintenance company after acquiring WP Site Care in 2018. The company will take on all of Maintainn's assets but the team will remain with WebDevStudios.
WordPress.com features to be removed from WordPress mobile apps
In an announcement on the Make WordPress Mobile blog, Paul Von Schrottky, an iOS Engineer at Automattic, says the WordPress app has evolved to meet a diverse range of site administration needs and use cases, with features like Stats, Reader, and Notifications. But, these features require Jetpack or a WordPress.com account. He says over the next six months, features that require Jetpack will be moved from the WordPress app to the Jetpack app.


As Gooding points out, "Automattic's products in the official WordPress apps have been a source of controversy for nearly a decade. Two years ago, when Automattic tangled with Apple over a lack of in-app purchases in the WordPress for iOS app, the community renewed its call for the company to separate its commercial interests from the official apps."


Review Signal Publishes 2022 WordPress Hosting Benchmarks
Speaking of speed, Ohashi tells Gooding, "I think the most remarkable trend is how fast things are getting." He says if you look at the enterprise tier from 2021 vs 2022, the fastest average response time (Static test) was 9ms and 6.4ms and p95 was 41ms to 20ms. The third fastest p95 in 2021 was 65ms, which would be seventh (out of 9) fastest this year if you moved it. "Despite the numbers already being staggeringly fast already, the whole cohort accelerated even faster," he says.


Post Status celebrated Ohashi's work on Twitter: "Always a big event, @ReviewSignal's hosting benchmarks are THE independent #hosting industry analysis, with a special focus on Managed #WordPress and now for the second year, #WooCommerce. Super work by @kevinohashi"
Review Signal also tweeted a bit of backstory: "First benchmark was published in 2013 I think (work started in 2012 iirc). So roughly a decade ago I started running these tests. @LightningBase has participated since the second benchmark."
Accessibility Day Organizers Calling for Speakers and Sponsors
WordPress Accessibility Day 2022 is November 2-3, and the call for speakers and sponsors is open. Organizers are looking for around 26 speakers for accessibility talks ranging from 15 to 40 minutes each. (A few multiple-speaker panel slots, which are each about 50 minutes, are also open.) On the other end, sponsorship packages ranging from $500 to $3,000 are available.


The WordPress Accessibility Team is already rallying support over on Twitter: "Share your #a11y Knowledge! Apply to speak at WordPress Accessibility Day, a 24-hour virtual conference on website accessibility and #WordPress held November 2-3. Speaker applications open until August 8th."


SEO consultant Joe Hall has offered to answer any questions: "Hey everyone!! We are still looking for sponsors for this years WordPress Accessibility Day (@wpaccessibility). Please read more here if you are interested, and reach out to me if you have any questions."


Ahead of the event, MasterWP interviewed WordPress Accessibility Day co-organizer and Equalize Digital CEO Amber Hinds. Hinds talks about budgeting for Accessibility Day, accessibility plugins, speaker incentives, and more.
Gutenberg 13.7 Features New Template Types and Updated Modal Designs
Gutenberg 13.7 was released this week and—as Birgit Pauli-Haack highlights in the Gutenberg Times Weekend Edition 224— is now available as 13.7.2 after a fast turnaround to fix two bugs.
Gutenberg 13.7 features an updated modal design, the ability to apply block locking to inner blocks with a click of a button, a myriad of new template types, and plenty of improvements to existing features based on feedback from the community.


Meanwhile, as block themes continue to debut in the WooCommerce marketplace, Basti by Ana Segota of Anariel Design has caught a few eyes. Last week, PootlePress's James Marsland called it the most beautiful WordPress Gutenberg block theme on his YouTube channel, while Brian Garden, a designer and Principal Developer Advocate at WP Engine, tweets, "Without question, Basti by @Ana_Segota + @AnarielDesign is one of the most beautiful FSE #WordPress themes. (Easily better than anything I have designed.)"
Business Spotlight: LearnDash
LearnDash is taking cutting-edge e-learning methodology and infusing it into WordPress. We're trusted to power the learning programs for major universities, small to mid-size companies, startups, entrepreneurs, and bloggers worldwide.
#WPCommunityFeels: Bethany Chobanian Lang

A podcast worth listening to: I may be the only person left on the planet who doesn't listen to podcasts! So I'll recommend a TV show instead that will both entertain and make you think: Severance on Apple TV. It's fantastically acted, written, and directed, and it's made me think a lot about how we "divide" ourselves personally vs. professionally and why that can be so harmful.
A concept worth understanding: I was introduced to the concept of

spoon theory

pre-pandemic, and I've been thinking about it a lot lately as a person who has anxiety and depression. In our crazy world, many of us start our day with fewer and fewer spoons but we keep pushing ourselves like nothing has changed. How do we make better use of the precious spoons that we have left?
A Twitter account worth following: I spend way too much time on Twitter and it can be an overwhelming and frustrating place sometimes, so I appreciate a good palate cleanser like

@redpandaeveryhr

.
An article worth reading: One of the most fascinating things to me about web performance is that there's such a fine line between helping and hurting performance and it's definitely possible to have too much of a good thing.

"The performance effects of too much lazy-loading"

is a great deep dive into how a broad approach to performance can ultimately cause more harm than good.
A habit worth forming: Real, intentional, mindful self-care. Getting a pedicure or taking a long bubble bath every so often is nice, but it's no substitute for regularly checking in with yourself mentally and emotionally and making small adjustments to address your mental health

before

you really need that "self-care" indulgence.
WordPress Is a Design System. Really?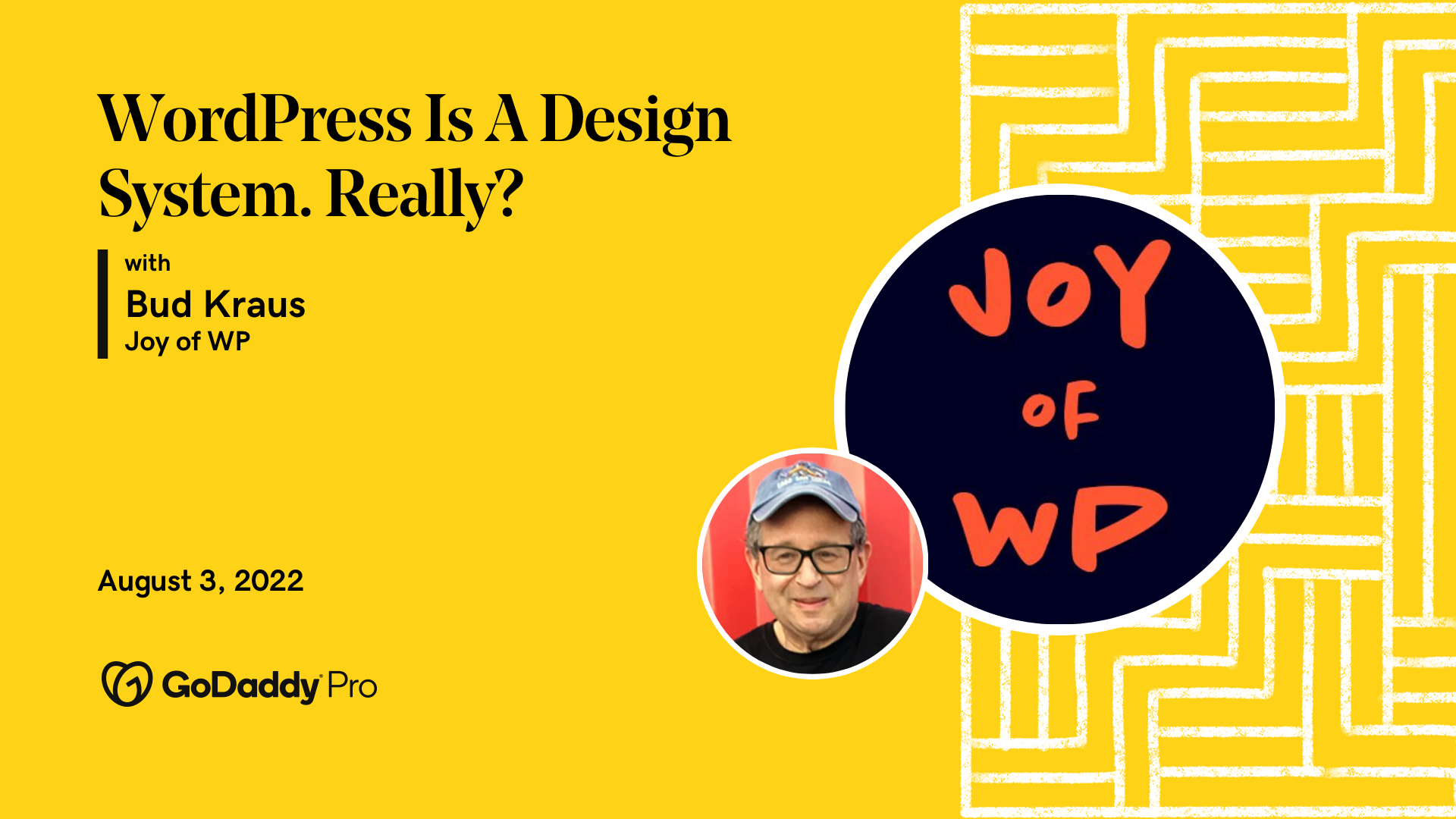 Recently, WordPress introduced full site editing, allowing the WordPress software to be used as a design tool out of the box! Now, it's time to discover just what it can do for you and how you can use it to design your site—or your clients' sites. Gone are the days of waiting for the design work to be complete before beginning the build process! Maybe...


In this presentation, Bud Kraus will teach you what block themes are and where to get them, what templates and template parts are, how to set styles that will apply to your entire site, and how to make your own theme and export it for use on another project.


This presentation is perfect whether you're new to WordPress, thinking about changing your theme, or just curious to see what full site editing is all about.


Bud Kraus is the Chief Education Officer at Joy of WP and has created his own courses teaching WordPress to others. This presentation is sure to provide the basic building blocks for you to get started!


This free virtual event is presented by GoDaddy Pro and will take place on Wednesday, August 3, 2022 at 3pm EDT.


Read more and register here.

In other WordPress news...
Not subscribed? Join the most conversational weekly email
in the WordPress community!