Plugin charts removed because 'nobody was using them'
"The data itself has almost become moot at this point. The unwillingness to communicate with the community is what seems to be the real issue."


Bang on, Eric Karkovack (as we'd say in Australia).


Long-time core contributor Samuel 'Otto' Wood, who works for WordPress co-founder Matt Mullenweg's angel investment and research company Audrey Capital, told the WPwatercooler podcast last week that the decision to remove the charts was made in May in private Slack messages initiated by Mullenweg. Wood says the charts were removed "because by and large, nobody was using them."


Gooding highlights that since the inaccuracy of the charts was well-known to those close to the problem, they didn't anticipate the firestorm the removal of the charts would create.


Rebel Code CEO Mark Zara's original Trac ticket calling for the charts to be brought back has been renamed 'Provide helpful plugin stats and insights' this week and now has over 110 comments. Dan Knauss at Post Status notes in Five takes on helpful plugin stats and insights, that "… the helpful comments offering actionable suggestions comprise about 5% of the total."


Knauss also highlights in Does WordPress.org data belong to the WordPress community? Should it? that "A consensus understanding seems to be emerging that the data is not open-source and community-owned. Uncommunicated expectations, misunderstandings, distrust, and even suspicion of malfeasance have arisen from the lack of a shared understanding about who owns what."


Is the freemium plugin model dead?
He argues that new plugins are not passing the 100k, 500k, or 1m+ install thresholds, and the directory isn't giving plugins organic reach: "The resources and work required to market a free WordPress plugin are so significant, that unless you're a huge business, in 2022 you get vastly better ROI from offering a paid-only plugin."


Cromwell acknowledges that Denning's data-backed insights are sound but argues there's "a big, wide, lucrative future" for freemium plugin developers who take the time to optimize their plugins for the repository, but also focus on their niche and user experience, launch with free and paid options, and deliver excellent customer support. He cites his own experiences with GiveWP and Orderable, both successful freemium plugins that were acquired by StellarWP last year.


Denning's take struck a nerve with plugin developers, including Carl Hancock, CEO and founder of Gravity Forms, who tweeted: "Doesn't help that the repo as it is currently designed is setup to force feed people the plugins with the highest active installs. The repo has no strategy for discovery and surfacing new (and even not new) alternatives. The rich get richer goes the saying."


He raises more food for thought, tweeting, "… many hosts are putting a custom layer in between the user and the repo in the WordPress Dashboard. Further devaluing the repo for discovery."
We'll give the last word to Travel For All founder Dale Reardon, who tweeted, "I absolutely hate how you can put in the exact name of a new plugin & yet it can be a long way down the search results or even on page 2."


Devin Walker announces new role as iThemes GM, rebrand on the cards
Speaking of Cromwell – "Devin and I have had our hands full as of late — and for quite exciting reasons," tweeted Matt Cromwell this week, whose long-time business partner, Devin Walker, announced he has taken over as General Manager at iThemes.


In Innovation and Focus: The Future of iThemes on the iThemes blog, shared a few changes going on at the StellarWP-owned company: there's been a shake up of the iThemes marketing team with Kathy Zant taking on Director of Product Marketing, some legacy products are being subsetted, and there are plans to revisit the iThemes brand identity (it's one of the oldest brands in WordPress, recently celebrating its 14th anniversary).


Walker says the company is also "going all-in" on the core product that "power the engine of iThemes": Security, BackupBuddy, Sync, and Training.


Plugin dependencies feature plugin now ready for testing
Sarah Gooding at WP Tavern reported the project "allows plugin authors to specify any WordPress.org-hosted plugin(s) that are required for their plugins to function." Site owners will receive admin notices whenever there are dependencies they need to install.


Developer Patrick Posner tweeted his enthusiasm on Tuesday: "The idea of adding plugin dependencies with the plugin header is awesome. I would have loved to have that years ago. Give it a try."


"Something small but neat for developers, whaddya know! Goodbye (eventually) TGMPA [TGM Plugin Activation plugin], you fared us well and I salute you," tweeted Derek Ashauer, designer and developer at Ash Web Studio.


WordPress 6.1 RC2 now available
Meanwhile, WP Briefing host Josepha Haden Chomphosy brought on 6.1 Editor triage lead Nick Diego this week to give a sneak peek into the new release. "The most exciting 'feature' that I'm excited about is the improved consistency and standardization of block controls that are coming in 6.1. So things like typography and color and borders and dimensions," Diego says.


WordPress 6.0.3 patches numerous vulnerabilities
WordPress 6.0.3 was released this week and features numerous security fixes. Jb Audras, a WordPress core committer, WordPress Core Team rep, and CTO at Whodunit, says the update addresses the exposure of senders' email addresses in wp-mail.php, a stored XSS issue in the RSS Widget, multipart email content leaks, and more.


Wordfence Threat Analyst Ram Gall published an analysis of the vulnerabilities and says while most are low in severity or require a highly privileged user account or additional vulnerable code to be exploited, it's still recommended that users update to the latest version of WordPress ASAP.


Patchstack Security Analyst Robert Rowley also published a rundown of the release: "Patching over a dozen security bugs in one release shows us how much work is being done toward securing the open-source WordPress project."
Business Spotlight: LearnDash
LearnDash is taking cutting-edge e-learning methodology and infusing it into WordPress. We're trusted to power the learning programs for major universities, small to mid-size companies, startups, entrepreneurs, and bloggers worldwide.
#WPCommunityFeels:

James Giroux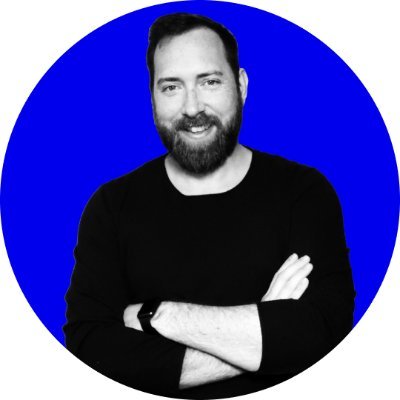 This week, what's inspiring James Giroux, Director of Brand & Product Marketing at StellarWP.
A podcast worth listening to:

HBR IdeaCast

is a great leadership resource that gets me out of the WP bubble and into what the rest of the business world is thinking about.


A concept worth understanding: We're always wondering what's next in product innovation and the

Jobs-to-be-Done Framework

by Tony Ulwick is one of those tools to help WordPress plugin creators systematize innovation so they can keep delighting users with every release.


A Twitter account worth following: I'm a big fan of investing in culture and what James Laws is doing over at

@Ciircles

is really awesome. He's a WordPresser, too, so his context is what we're all navigating.


An article worth reading: Lately there have been a lot of articles written about the lived experience of people from underrepresented groups in WordPress. I highly recommend Michelle Frechette's article 5 Days Without A Shower to give you some insight into how others experience those memorable WordPress events we all love.


A habit worth forming: Recognition is one of those things that goes a long way. Taking time each week to celebrate the effort of someone in your team will encourage others to do likewise and have a transformational effect on your team dynamics.
Don't Let the Query Loop Block Throw You for a Loop!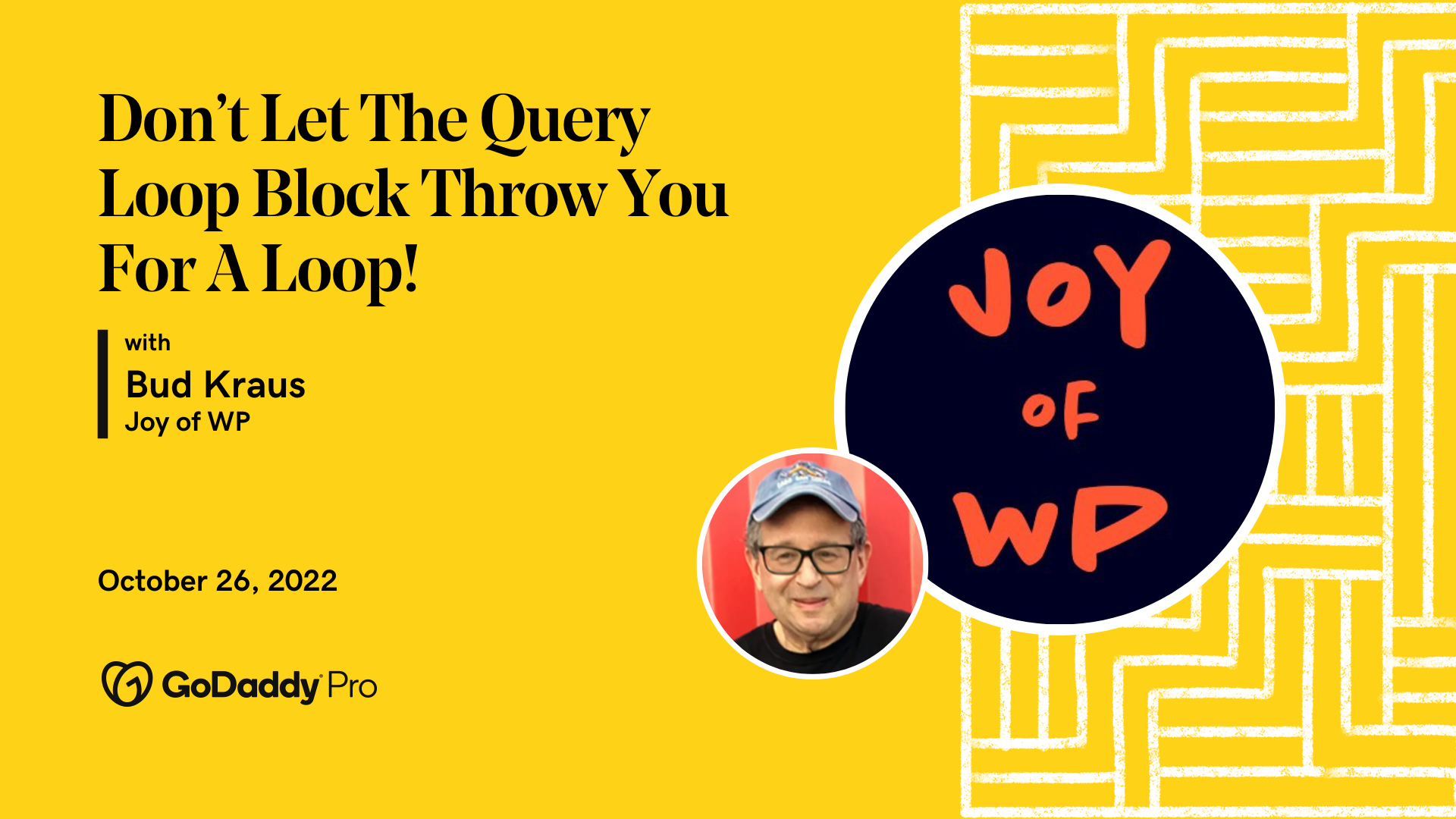 While it's got a very unfortunate name, the Query Loop block unlocks the potential of what an archive page can be—without knowing any code! If you've ever wanted to know how to have complete control over what is displayed on a blog archive page, this session is for you.


In this presentation you will learn:

What exactly is the Query Loop block
How you can use a Query Loop template for your Blog Archive page
How you can start from scratch with the Query Loop block
How to style the Query Loop block
Time permitting: a look at the Comments Block
Join Bud Kraus from Joy of WP, an expert WordPress instructor, as he shares his experience with the Query Loop block and how to use it to build out your post archive pages. To learn more, you'll want to check out his free and low-cost online courses to teach you how to use Gutenberg, the WordPress block editor, from his Joy of WP service.


We'll have a Q&A session with Bud for those joining us LIVE. Plus, Bud will share a special offer just for our GoDaddy Pro audience!


This free virtual event is presented by GoDaddy Pro and will take place on Wednesday, October 26 2022 at 3pm EDT.



In other WordPress news...