Meetup.com removes accessibility overlay, commits to working with WordPress community
Sarah Gooding at WP Tavern reports that WordPress Community Team leaders requested a meeting with the company—including the Director of Engineering, Head of Customer Success, and GM of Meetup Pro—and persuaded them to take the overlay down and focus on direct improvements to the Meetup.com platform.


Gooding notes the decision to remove the overlay has been well-received by accessibility advocates who hope to see more changes to the platform's source code based on community feedback in the next few weeks.


Joe Simpson, a co-team rep on the Make WordPress Accessibility Team, tweets, "So glad @Meetup removed their overlay - being open to dialoguing with our @WordPress and #Accessibility community voices - a decision removing barriers for ALL users."


Rian Rietveld, a web accessibility specialist at Level Level, adds, "Yay! @Meetup removed their accessibility overlay! Let's hope now they make their website itself accessible, instead of using a band aid."


As part of revising its accessibility roadmap, Meetup.com is requesting feedback from WordPress community members with experience using its platforms across devices with accessibility features enabled. Folks who want to take part in a 50-minute chat are asked to get in touch with Automattic-sponsored community organizers Angela Jin and Isotta Peira.


Gutenberg 14.6 now available
Awesome Motive Project Manager David Bisset summarizes: "New #Gutenberg 14.6 for #WordPress adds a variation picker to group block placholder, list-based editing to nav block, updating focial point handle design, etc."
10up

-sponsored

Gutenberg

contributor Fabian Kägy has published a quick video that helps to visualize the changes.
In the latest episode of the Gutenberg Changelog podcast, Ryan Welcher, a Developer Relations Advocate at Automattic, notes some "quality of life" updates in Gutenberg 14.6 that make using it a more pleasant experience: "It's nice there's this level of refinement happening to these existing tools," he says.


WordCamp Asia organizers announce speakers
A slew of founders, user experience experts, developers, writers, and more will be speaking at the event, including Ymir developer Carl Alexander who tweets, "So apparently, @WordCampAsia announced I was a speaker and didn't realize. So ya... SURPRISE. I'm speaking on serverless WordPress in February 😅"


Other speakers include rtCamp Engineering Manager Rahi Prajapati, 2xYou CEO and co-founder Le-an Lai Lacaba, Crowd Favorite CEO Karim Marucchi, and long-time WordPresser (and WordPress historian) Siobhan McKeown who's the COO of Human Made.


Also: "Fun fact: #WordCampAsia 2023 will take place in Krung Thep Mahanakhon Amon Rattanakosin Mahinthara Ayuthaya Mahadilok Phop Noppharat Ratchathani Burirom Udomratchaniwet Mahasathan Amon Piman Awatan Sathit Sakkathattiya Witsanukam Prasit," tweets Sam Suresh, a WordCamp Asia Global co-lead. He adds, "If you wondering what is it, that is the full actual name of Bangkok."


Annual WordPress Community Survey now live
"Check out the refreshed #WordPress annual survey, available in seven different languages," tweets community organizer Angela Jin, who links to the 2022 WordPress Survey.


The annual survey was launched today and as Automattic-sponsored contributor Chloe Bringmann notes, it "helps those who build WordPress understand more about how the software is used, and by whom." The survey also helps WordPress leadership better understand contributors' experiences.


The survey will be open through the end of 2022. Bringmann says the results will be published sometime in 2023.


Wintle wins with WordlePress
It was going to happen sooner or later, right? As podcaster Joe Casabona tweeted back in January, "How long until we see WordlePress?"


If you were a part of the Wordle craze earlier this year, check out WordlePress. Delicious Brains developer Ross Wintle's new creation integrates the fun of the original game while challenging your knowledge of core WordPress PHP functions.


"Cripes. WordlePress took 101 guesses today. Was kinda fun once I got the first three words though. A few amusing suggestions for the final word got me giggling. Am I a WordlePress bore yet? Sorry. (Not sorry)," Wintle tweeted Thursday after a particularly tough round.
Business Spotlight: LearnDash
LearnDash is taking cutting-edge e-learning methodology and infusing it into WordPress. We're trusted to power the learning programs for major universities, small to mid-size companies, startups, entrepreneurs, and bloggers worldwide.
#WPCommunityFeels: Ryan Sullivan

A podcast worth listening to: I've really been enjoying the

Nested Folders podcast

. It's about personal and professional productivity, but not so much the tools or "hacks" like lots of other podcasts. They talk more about how to think about productivity and getting things done. It's also only one hour per month, which feels right for people who are mindful of where they spend their time.


A concept worth understanding: Entropy is something I've been thinking about a lot lately. James Clear articulates how entropy works

here

much better than I ever could. I'm drawn to the idea of designing the life you want, even though there will always be chaos and other challenges pushing against you. I'm a long way from getting where I'd like to be in that regard, but I think all of us could benefit from understanding how entropy works and what we can do to combat it (or roll with it, when appropriate).


A Twitter account worth following: Follow

@CraigWeekend

to get a weekly dose of Daniel Craig and know when the weekend starts, at least for as long as Twitter is alive (which I hope is a long time).


An article worth reading: This is coming from a place of strong bias because I firmly believe that maintenance programmers are some of the best problem solvers on the web, and I run a WordPress Support and maintenance company, but I'm going to share it anyway.

The Noble Art of Maintenance Programming

by Jeff Atwood from 2006 will help you stop looking at maintenance programming as "janitorial work."


A habit worth forming: I thought about this for a long time, because I think the habits we need to form depend a lot on the needs of individuals. But one thing that's helped me a lot, and that I think would help pretty much anyone who tries it, is

a short breathing exercise

either to start the day or to help you prepare for something that may be especially anxiety-inducing.
Upcoming GoDaddy Pro Events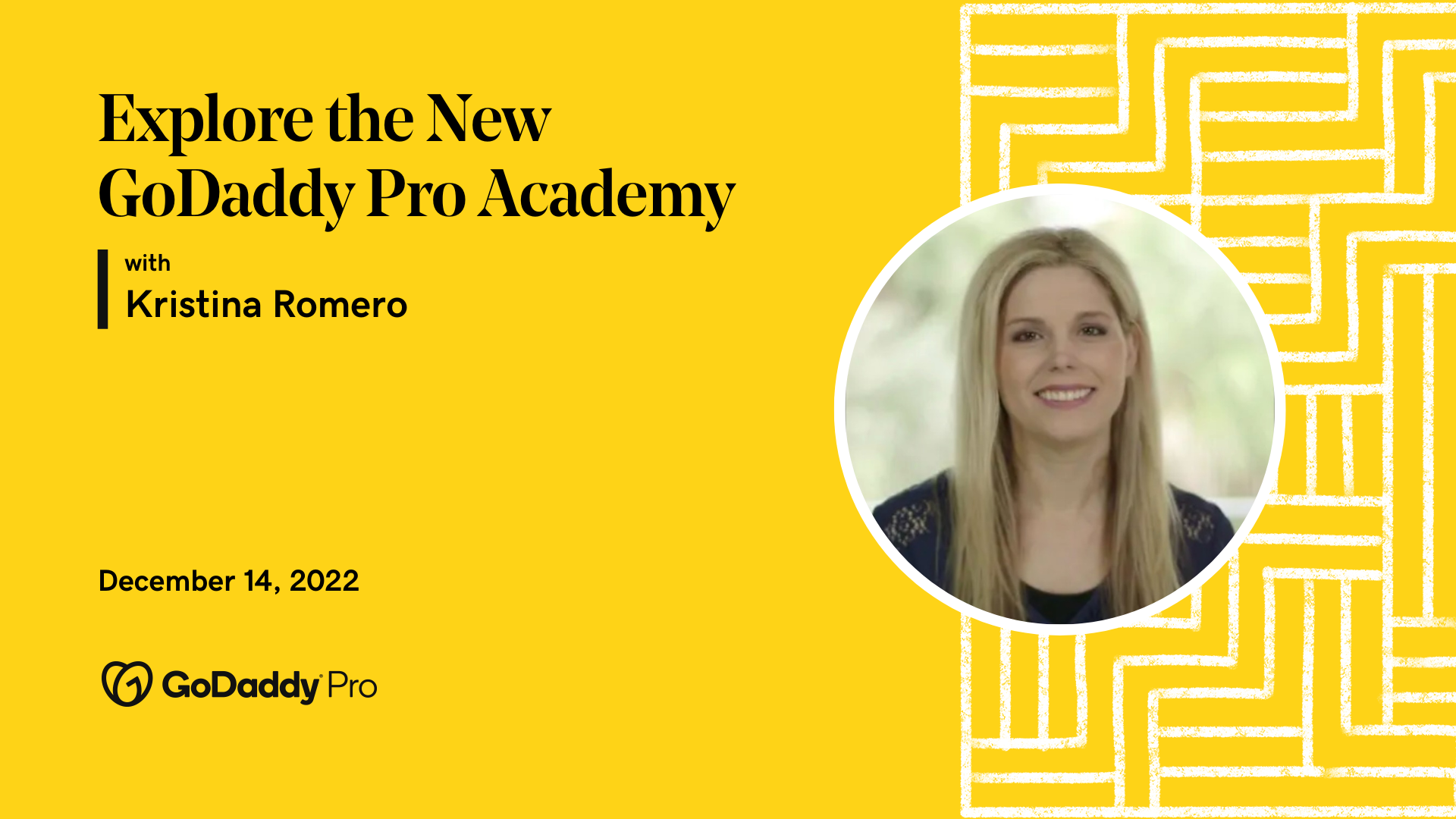 December 7 — Quick Guide to SSLs
Join us for this short-form webinar where we will cover SSLs and how to choose which one is the best fit for your (or your client's) business.
This free virtual event is presented by GoDaddy Pro and Sucuri and will take place on Wednesday, December 7, 2022 at 2pm EST.
December 14 — Explore the New GoDaddy Pro Academy
Whether you're looking to start a new web design business or grow an existing one, the GoDaddy Pro Academy has the resources you need! In this session, Kristina Romero previews some of the new tools that the GoDaddy team has put together to help your business succeed.
This free virtual event is presented by GoDaddy Pro and will take place on Wednesday, December 14, 2022 at 3pm EST.

In other WordPress news...