WordPress Core Team Tackling Old, Neglected Trac Tickets in Upcoming Triage Sessions
According to Sarah Gooding's report at WP Tavern, 19 tickets are more than 15 years old, and 688 are 10 years old. The largest chunk of 3,484 tickets falls into the 5-10-year-old category.


Eric Karkovack tweeted, "Looks like some of those very old #WordPress Trac tickets could finally be resolved!"


Gooding notes that "Some tickets require deep historical knowledge of WordPress and will benefit from having participation from veteran contributors."


Audras, who's also CTO at Whodunit, also tweeted "Props @remkusdevries for contributing to the original idea 🙌" this week, acknowledging that Remkus de Vries, who runs Truer than North, kicked off the discussion about "cleaning up" old Trac tickets on Twitter last month that inspired the triage sessions.
Another All-Women and Nonbinary-Led WordPress Release Squad in the Works for 2023
This week, WordPress Executive Director Josepha Haden Chomphosy planted the seed for a follow up tot the WordPress 5.6 release when she tweeted, "What if we did another women/nonbinary-led release for WP6.4?"


There's been overwhelmingly strong support for the initiative ("My team would be interested in contributing," tweeted Cathi Bosco, co-founder UXATT, an experience design collective) with some inevitable pushback. Acknowledging the latter and offering his support, Taco Verdonschot, Yoast's Head of Relations, tweeted, "You'd probably get hate from some, and support from many people. So, how can I help making that happen? :)"


Dee Teal, a project manager at Human Made, replied to Haden Chomphosy, "Yes! But let's also talk about how we make it stickier?" acknowledging that we need more people to stay on as ongoing contributors.


WordPress 5.6, released in December 2020, has so far been the one and only WordPress release led by an all-women and nonbinary squad. At the time, Peter Wilson, a core contributor and Awesome Motive WordPress core developer, tweeted, "Most WordPress releases run very smoothly. The WordPress 5.6 release has been the smoothest I have seen for several releases. The release squad brought an extra layer of polish."


WordPress 6.2 Release: Will the Site Editor Finally Shed its Beta Label?
Contributors have been aiming to get the Beta label removed since 6.1 but the criteria had not yet been met. Gooding notes that current blockers include a ticket to improve the Site Editor loading state so that everything is fully loaded before users start interacting, removing the jumpiness of half-rendered states.


Beta 1 is expected to be released on February 7, with RC1 planned for a month later, and the official WordPress 6.2 release scheduled for March 28, 2023.
WordPress Learn Project Seeks User Feedback Through Survey
The survey takes about 5 minutes to complete and covers a few basic demographic questions, learning styles, and also gauges respondents' interest in the possibility of a WordPress certification program.
Laura Adamonis, a website designer at Add A Little Digital Services, tweeted, "Join in! Be part [of] the future of WordPress. Retweet and get the word out."


In 2022, 12,000 people took a course on Learn.WordPress.org. The course catalog has grown to include everything from getting started with WordPress to building custom blocks, in addition to 140 shorter tutorials, and a nearly continuous stream of live online workshops.
Matt Medeiros Grills WordPress Leaders On New WP Minute+ Podcast
This week, Matt Medeiros, founder and publisher of The WP Minute, launched The WP Minute+, a longer form version of his weekly 5-minute news podcast featuring conversations and interviews with WordPress business and community leaders.


The first episode features an interview with Syed Balkhi, founder and CEO of Awesome Motive, following the announcement last month that his company had acquired Thrive Themes. During the interview, Medeiros grills Balkhi on the size of his business and its influence on the WordPress community, at one point asking him to justify why Awesome Motive engages in practices that many folks find distasteful, such as limited-time deals and displaying banners in the WordPress admin to upsell to users.


Three additional episodes of the podcast feature Miriam Schwab (Head of WordPress Relations at Elementor), Chris Badgett (CEO at LifterLMS), and Chris Lubkert (co-founder of Extendify) and are available when you add The WP Minute+ to your podcast app.


According to Medeiros, his long-running podcast Matt Report, which he launched in October 2012, "will live on." He says it will continue to focus on so-called blue-collar digital workers "who do good work and want to be paid for it."
99% of WordPress Vulnerabilities Caused By 2% of Plugins, According to iThemes Report
According to the report's author, Dan Knauss, who recently left Post Status to join StellarWP as a Technical Content Generalist, vulnerabilities surfaced in 20-50 plugins and themes every week last year. Each month, an average of 121 plugins and themes had a vulnerability publicized. Worryingly, 26% of plugin and theme vulnerabilities were unpatched at the time of their disclosure. Knauss does report some good news: the severity of vulnerabilities declined significantly last year compared to 2021.


His takeaway: "All our findings in this report repeat the trends of previous years and underscore the importance of keeping your WordPress site up to date," Knauss writes.


"Run your updates kids!" tweeted WP Wednesday podcast host Marv Dorner.
Business Spotlight: Weglot
WordPress translation plugin, Weglot, gives you a reliable and easy way to take your website from local to global in minutes. No coding required and no developer time needed. Add the Weglot plugin, select your required language(s) and watch as Weglot instantly translates your site. Start your free trial today.
#WPCommunityFeels: Mark Westguard

A podcast worth listening to: WP Builds is my go to weekly podcast, it is well worth listening to for a round up of the latest WordPress news and fantastic discussion from Nathan Wrigley and his guests. Also, check out WPMotivate from Michelle Frechette and Kathy Zant for a positive start to your week! It's good to switch off the news sometimes!


A concept worth understanding: I often see developers getting confused about taxonomies and terms. I frequently see terms being called taxonomies. It can be rewarding to scan a quick rundown of their definitions.


A Twitter account worth following: Follow Marcus Burnette. He is well connected in the WordPress space and produces some great content with GoDaddy Pro.


An article worth reading: I'm all for accessibility online, but also offline and throughout our WordPress community. 5 Days Without a Shower by Michelle Frechette at Post Status highlights the challenges she faced at a recent WordCamp event and offers suggestions on how to improve the situation for those with disabilities.


A habit worth forming: Sleep is so important. If you aren't sleeping well, work on improving it.
Avalara + GoDaddy Pro Tax Mini-series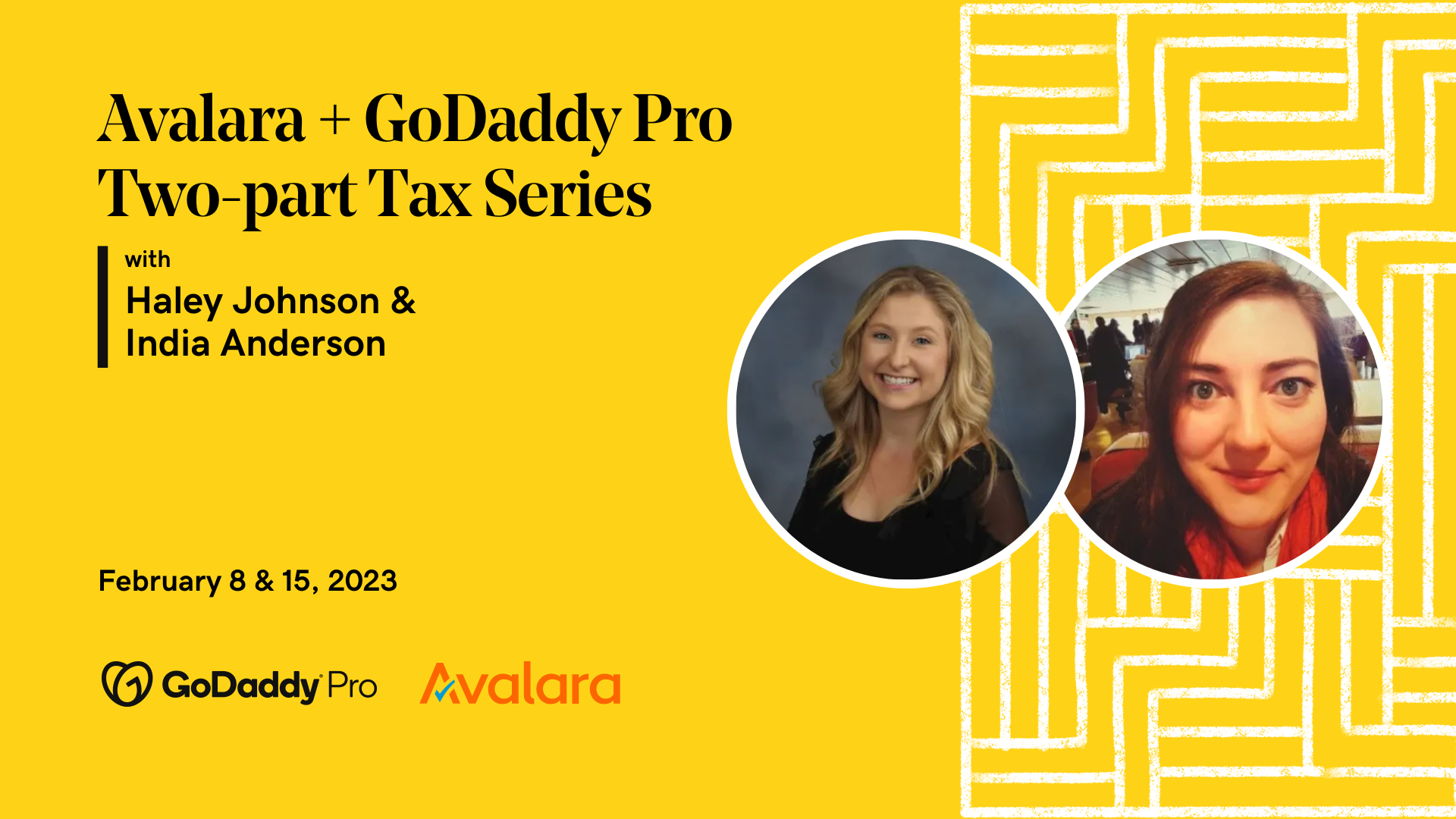 Avalara partners with leading ecommerce platforms, including GoDaddy and WooCommerce, to provide retailers and brands with an automated sales tax solution that is easy-to-implement and easy-to-use. And with over 1,200 integrations overall, ecommerce sellers can connect the systems and platforms they use to manage tax transaction data from one place. In addition to automating sales tax calculation, Avalara helps businesses big and small with nexus monitoring, exemption certificates, return filing, tax research, and much more.


Join our upcoming two-part series with Haley Johnson and India Anderson from Avalara to learn about the importance of sales tax and compliance, and to discuss the WooCommerce Connector available and the new WordPress plugin that is coming in February.


These free virtual events are presented by GoDaddy Pro and will take place on Wednesday, February 8 and 15, 2023 at 3pm EST.

In other WordPress news...