GoDaddy Cuts Jobs: Hundreds Affected as 8% of Global Team Loses Employment
"Corporate gonna do corporate stuff. 8% staff reduction at GoDaddy. Some decent talent hitting the market," posted Joshua Strebel, CEO of Pagely (acquired by GoDaddy in November 2021) in Post Status Slack.


Also in Post Status Slack, Adam Warner, Director of Field Marketing at GoDaddy Pro, posted, "Yes, please ping me for referrals. So many talented people now available, stressed, and looking for the next opportunity in their careers."


Some affected folks took to Twitter to start their job hunt, including Gina Marie Innocent from Warner's team, who tweeted. "I was part of the 8% and although it hurts leaving such a wonderful team I know greater opportunities are out there for me. If you know of any open roles please let me know, thanks 🫶🏾."


Chris Edwards, who's been let go from his role as Senior Product Marketing Manager: WooCommerce, says he's pulling his marketing agency Data Driven Labs "back out of cold storage." "If you're looking for WordPress or WooCommerce work or just need some maintenance, hit me up!" he tweeted.


"It's been a week folks," tweets Courtney Robertson, Open Source Web Design and Developer Advocate at GoDaddy. "Between missing many of my @GoDaddy coworkers and sick family, remember to tell people frequently that you are thinking about them, that you care for them. And #WordPress - thank you for reaching out. This community is the best at lifting each other up.
Alex Stine Named WPCC's First Accessibility Fellow
Launched in December by Sé Reed, Katie Adams Farrell, and Courtney Robertson, the WPCC is dedicated to funding individual WordPress contributors and community-led initiatives. The collective is managing its finances transparently on Open Collective and has so far raised about a quarter of the $15,000 Accessibility Fellowship, according to Robertson, taking into account individual WPCC memberships.


"I am excited to have the opportunity to give back to the project that provided me with my start in the technology field," Stine says. "I could not continue to give back at my current capacity without this generous program. I will help ensure WordPress becomes more accessible, and I will fight to have the community as a whole adopt new principles that will ensure accessibility is the first thought, never the last."


Marcus Burnette, Sr. Marketing Specialist at GoDaddy Pro, tweets, "Congrats, @alexleestine303! I know this is just the very beginning, but I'm excited to see the work you'll do and the benefits we'll all get the experience from this program!"
Beta Label Set to Be Removed from Site Editor in WordPress 6.2
WordPress 6.2 Beta 1 was released this week and is available for testing.


Gooding also notes that in just seven weeks when WordPress 6.2 is released on March 28, it will roll in the last 9 Gutenberg plugin releases, comprising 292 enhancements and 354 bug fixes. It's also one of the last planned major releases of phase 2 of the Gutenberg project's roadmap.


WordCamp Asia Kicking Off in Bangkok Next Week
WordCamp Asia kicks off next week, February 17-19, in Bangkok, Thailand. There will be more than 60 speakers across 2 days of talks, hundreds of organizers and volunteers, and a contributor day. WordPress co-founder Matt Mullenweg will also be hosting an AMA.


Naoko Takano, an Automattic-sponsored member of the WordPress Community and Polyglot teams, joined WP Tavern's latest Jukebox episode to chat about the importance of what will be the first WordCamp Asia.
WordPress.com Testing AI-Generated Blocks for Image and Text Creation
According to WPcomMaven, the AI Paragraph block "reads" your current post content and generates text based on that content. Users can use the AI Image to generate images based on a prompt. Sarah Gooding has more at WP Tavern: WordPress.com Is Testing AI-Generated Images and Content.


In other AI-related news this week, Plugin Machine founder Josh Pollock tweeted, "Wasn't sure how to announce that I had soft launched my AI writing plugin for WordPress, and I need to pick Macy up from the groomer soon, so I let AI write the blog post." He linked to Upcycled Found Objects, his new AI-assisted writing plugin.


Gutenberg YouTuber and builder Jamie Marsland has also been experimenting with AI, tweeting, "I just built 3 WordPress plugins in 10 minutes using Ai 😬 A maintenance mode plugin, a plugin that warns about too many plugins 😉, and a plugin that makes it snow 👇 This is going to lead to a huge growth of microplugins once 1) Ai tools get even easier 2) Word gets out 🤔"


UpdraftPlus Acquires WP Overnight, Expands into WooCommerce Space
UpdraftPlus announced this week it has acquired WP Overnight, a Netherlands-based developer of WooCommerce add-ons. The deal includes WP Overnight's existing support and development team, which UpdraftPlus Managing Director, Joe Miles, says will remain in place to maintain its high level of service.


The acquisition is the first for UpdraftPlus in the WooCommerce space and the company's second in 17 months following the purchase of All-In-One Security in August 2021. Before that, UpdraftPlus acquired Easy Updates Manager in 2018 and WP Optimize in 2016.


According to Miles, this latest acquisition is "another major leap forward for us" with the company's portfolio now encompassing security, backups, e-commerce, and document management, and its user base growing to over 5 million installs across its products.
WordPress Community Summit 2023 Applications Now Open
This year's WordCamp US will include a Community Summit and applications are now open. The invitation-only event, planned for August 22-23 in National Harbor, Washington, DC, will be the first of its kind in six years, following the Paris Summit in 2017.


Applications are open to any contributor regardless of project tenure. The summit is expected to include some form of travel assistance program to help attendees lacking financial means, though details of the program have yet to be published.


According to Automattic-sponsored community contributor Julia Golomb, "Our goal is to have a diverse and inclusive summit that provides a safe and encouraging space for our dedicated contributors to work on the WordPress project and the problems we encounter within it."
Business Spotlight: Weglot
Are you attending WordCamp Asia next week? If yes, the Weglot team will be present! Try our WordPress translation plugin, Weglot, for free and catch us at our booth to give us your feedback! Start your free trial today.
Avalara Mini-Series Part 2: WordPress Developer Integrations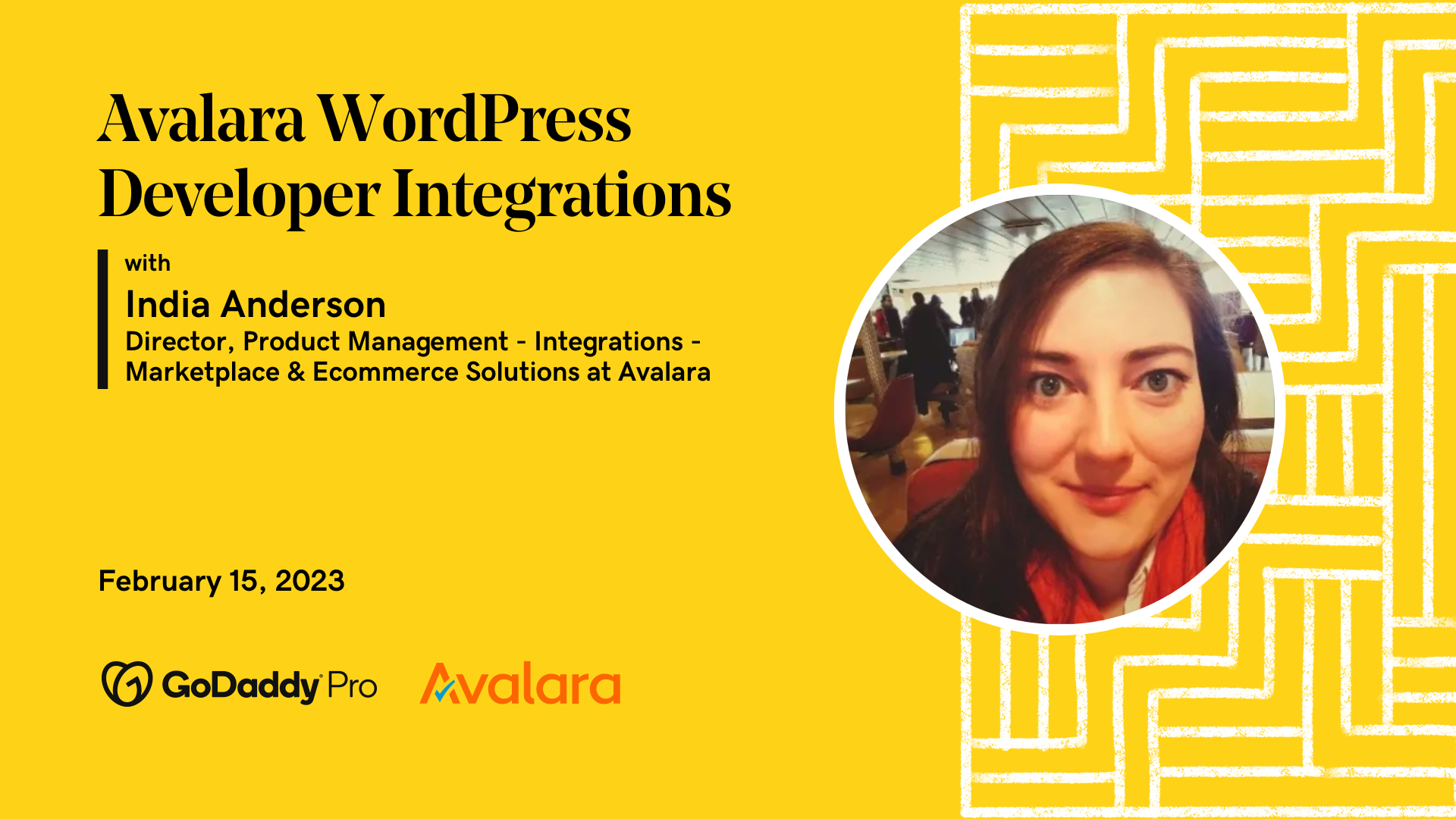 Avalara partners with over 1300 partners to make implementation easy for developers that are constantly having to integrate multiple systems. Avalara's Director of Integrations India Anderson will take you through the e-commerce embedded technology available in GoDaddy Pro, discuss the WooCommerce Connector available and the new WordPress plugin that is coming in February.


The WordPress developer community is a priority for Avalara, and we look forward to connecting and getting feedback!


This free virtual event is presented by GoDaddy Pro and will take place on Wednesday, February 15, 2023 at 3pm EST.

In other WordPress news...