Contributors Move Quickly to Resolve Openverse Hotlinking Concerns
The new integration will allow users to quickly insert free, openly-licensed media into their website content. As Gooding reports, several contributors cited GDPR and privacy concerns in the ticket that called for uploading images by default. Others noted that hotlinking images could pose issues for users wanting to edit images, and for developers managing site migrations.


Awesome Motive Acquires WP101
The big headline in acquisition news this week: WP101 has joined Awesome Motive and WPBeginner.


Shaun Hesketh, the creator of the WordPress 101 video tutorial series, has sold the company he founded 14 years ago, to join the team at Motivations AI. He shares his motivations for selling WP101, his experience with burnout, and how his new role at the personality assessment company has energized him in Selling WP101: My Journey from Solopreneur to Team Player.


FunnelKit creator Daman Jeet tweets, "Great news! Back in our agency days every new joiner had to go through WP101 courses and @wpbeginner resource guides as part of onboarding. Glad to see both brands joining forces. 👏👏"


Mike McAlister, a principal software engineer at WP Engine, also praised Hesketh, tweeting, "Congrats, Shawn! One of the most knowledgable and generous minds in the whole of WordPress. What you built at WP101 has changed our industry for the better and you helped hundreds of thousands of creatives in the process. You can't get much better than that."


MotivationsAI CEO Chris Lema, whose past roles include stints at Liquid Web and Crowd Favorite, is thrilled Hesketh is the company's new VP, Learning Strategy and Design, tweeting, "My personal favorite part? Where he landed."
All In One SEO Plugin Patches Stored XSS Vulnerabilities, but Millions of Users Remain at Risk
Wordfence recently disclosed two stored XSS vulnerabilities to the developers of the All In One SEO plugin. The vulnerabilities, which are estimated to have impacted more than 3 million users on versions 4.2.9 and earlier, allowed attackers to inject websites with malicious web scripts that would activate whenever a user visited the page.


WordCamp Asia Continues to Get Rave Reviews
WordCamp Asia 2023 "is truly the standard that all WordCamps should be held to," writes MasterWP's Editorial Director Nyasha Green in WordCamp Asia forever has my heart. In her recap after attending Asia's first flagship WordCamp last month, Green writes that every detail of the event was thoughtfully planned, down to the diverse range of speakers, the venue, and even the delicious food.


WPwatercooler's Jason Tucker, Sé Reed, and Jason Cosper chatted with Green and Courtney Robertson, an Open Source Web Design and Developer Advocate at GoDaddy, about the conference in last week's episode. The WordPress Briefing similarly covered WordCamp Asia 2023, with WordPress Executive Director Josepha Haden Chomphosy exploring her three major takeaways from the event.
WordPress 6.2 Beta 4 Released with Over 292 Enhancements and 354 Bug Fixes, Available for Testing
WordPress 6.2 Beta 4 is now available and ready for testing. According to Automattic-sponsored marketing contributor Jonathan Pantani, this release includes more than 292 enhancements and 354 bug fixes for the editor, and more than 286 tickets for the WordPress 6.2 core. This release also fixes 79 issues identified since last week's Beta 3.


Meanwhile, "A must-read for everyone getting ready for 6.2!!! Thanks so much to Anne for putting this together 💗" tweets Elma Studio's Ellen Bauer, linking to Anne McCarthy's write-up WordPress 6.2 Source of Truth. According to the Automattic-sponsored contributor, she has been putting together a 'source of truth' in the form of a Google Doc for each WordPress release since 5.8 to provide a 'one stop shop' for contributors to access the best and most up-to-date release information.
Gutenberg 15.2 Introduces Revisions for Template Editing in Site Editor
Elma Studio co-founder Ellen Bauer tweets, "Can't wait for this to be added to core asap 😍"


Gutenberg 15.2 also brings improvements to navigating the Site Editor and continued accessibility improvements. The full list of changes and bug fixes are detailed in release lead Daisy Olsen's announcement post at Make WordPress Core.
Business Spotlight: Infinite Uploads
Infinite Uploads is your all-in-one media solution for video streaming, cloud storage, and CDN delivery for your WordPress media library and video. Easily connect an unlimited number of sites to offload your files, handle and encode massive video uploads, lower hosting costs, improve site performance, and serve files faster to your visitors. Start your free trial today.
#WPCommunityFeels: Alex Borto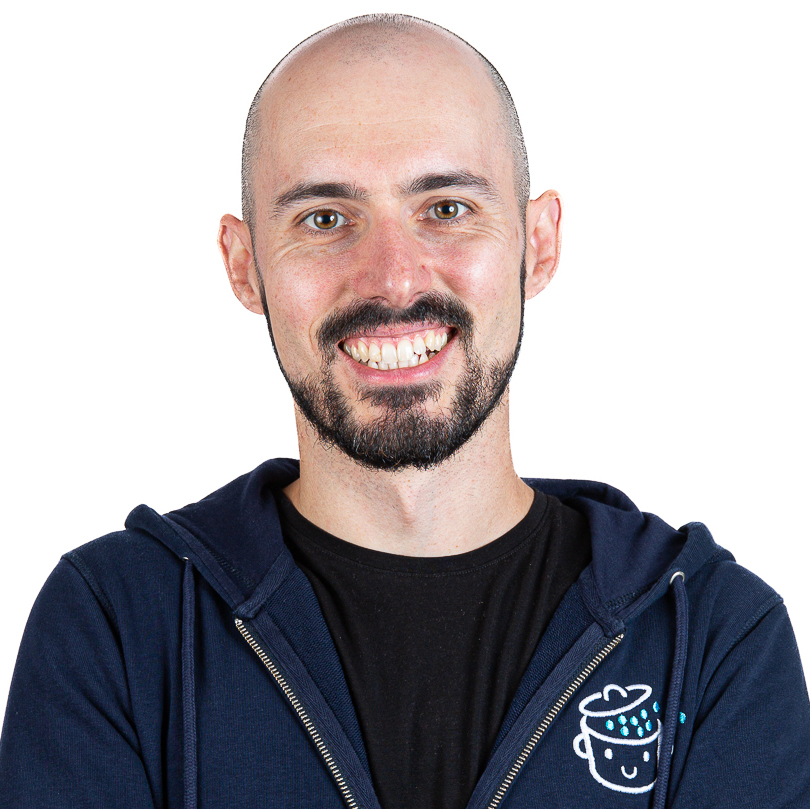 This week, what's inspiring Alex Borto, founder of WPMarmite, WPTurbo, and WPSitter.

A podcast worth listening to:

Everyone Hates Marketers

is by far the best marketing/entrepreneurship podcast I listened to. Louis invites amazing people that shares actionable marketing insights that can be implemented fast. He didn't published new episode for a while but the archives are full of gems. If you have to listen to only one episode, I'll recommend the one with Seth Godin.


A concept worth understanding: "People overestimate what they can do in a day and underestimate what they can do in a year." As entrepreneurs, creators, and developers, we are generally optimistic people, and it can be disheartening when we don't see immediate results. However, the power of compounding is real. If you consistently put in the work day after day, you will ultimately create something of value.


A Twitter account worth following: It's difficult to recommend only one but I would go with

Eric Karkovack

's. He's very involved in the WP ecosystem and publish interesting takes, reviews and tutorials. You can find him on

Speckyboy

and

The WP Minute

.


An article worth reading: Every time I need to collect testimonials, I check

this old Copyblogger post

that shares 6 questions to ask your customers in order to craft a powerful testimonial.


A habit worth forming: Every Monday, I schedule my week on my calendar to determine what tasks to complete each day. Additionally, my team and I review our progress each Friday and each month to evaluate what went well and what requires more attention in the future. As someone who is not naturally organized, this has been a game-changing practice for me.
Elementor or Gutenberg? Why Not the Best of Both?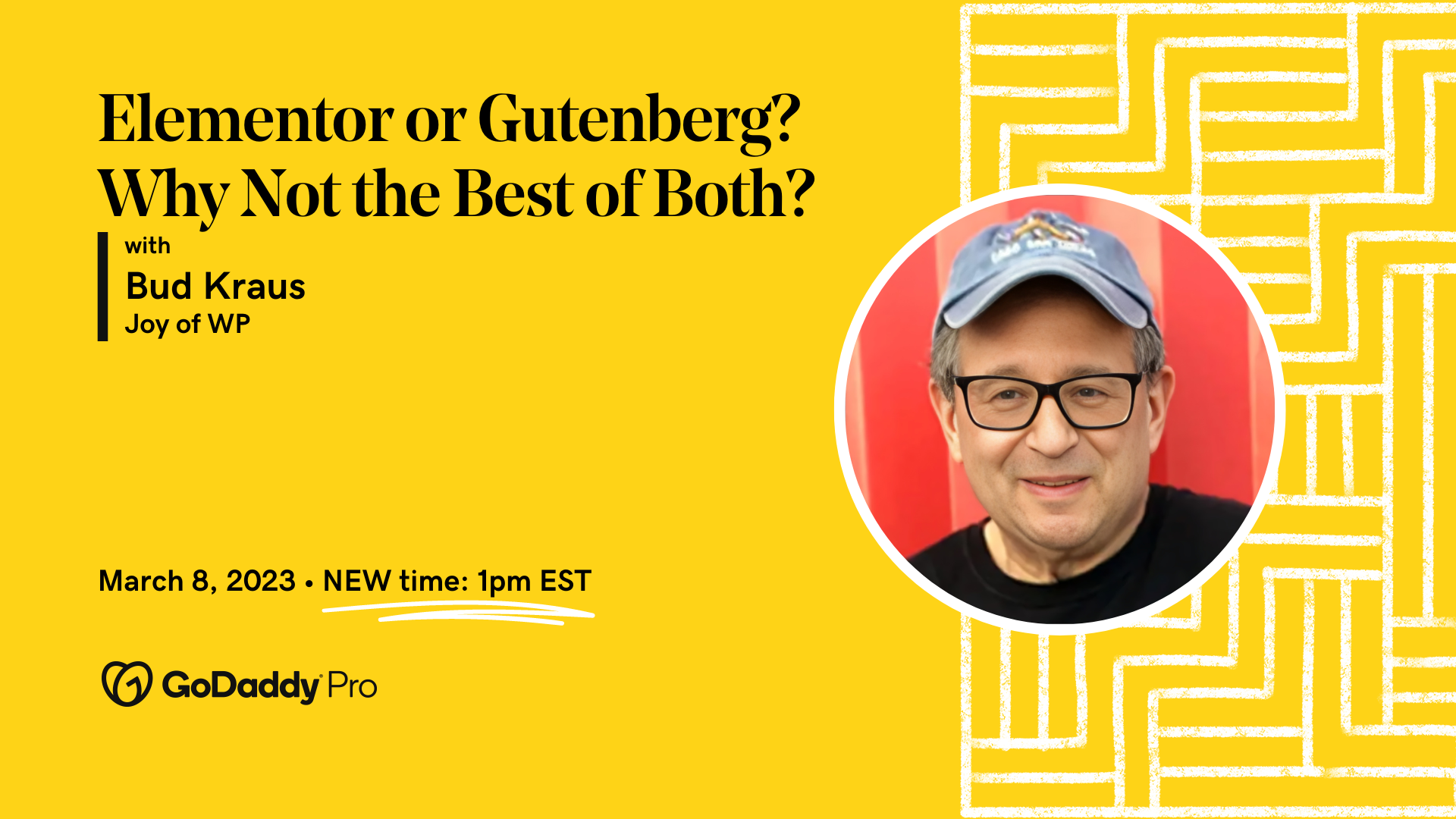 Join us for our GoDaddy Pro Makers of the Web virtual meetup where the presenter, Bud Kraus from Joy of WP, will demonstrate how to use Elementor and Gutenberg, the WordPress block editor, to create a powerful and flexible design system for WordPress websites.


The session aims to help participants elevate their website design skills by combining the strengths of these two design tools to create custom layouts and designs while maintaining accessibility, speed, and SEO benefits. Bud Kraus will provide tips and tricks on how to use both tools to their full potential, giving attendees a better understanding of how to use Elementor and Gutenberg together to create websites that meet their specific needs.


The event promises to be an excellent opportunity to learn from an experienced WordPress designer and take WordPress website design to the next level.


This free virtual event is presented by GoDaddy Pro and will take place on Wednesday, March 8, 2023 at 1pm EST (new time!).



In other WordPress news...