Pippin Williamson retires from WordPress
The big news this week:

StellarWP has acquired LearnDash

Awesome Motive has acquired all of Sandhills Development's plugins and services, including Easy Digital Downloads and AffiliateWP and most of its team, and Pippin Williamson has retired from WordPress.


"It has been an amazing 10+ years working in WordPress, but the time for me to move on to other adventures has come. @syedbalkhi has agreed to carry on my life's work and I can't wait to watch what he and the whole team at @AwesomeMotive achieve!"

tweeted

Williamson, who shared an honest account of what led to his decision to sell:

Awesome Motive Has Acquired Our WordPress Products and Services

.


Twitter blew up with tributes for Williamson, whose business has been one of the most respected in the WordPress ecosystem for the past decade. Known for his epic year in review posts, commitment to quality, and prioritizing people over product, his absence will be felt in the community.


"Today, somebody I considered "God of Code Quality" is retiring 😞💔"

tweeted

rtCamp founder and CEO Rahul Bansal.


Stephen Cronin, a WordPress specialist at Envato,

summed up

what a lot of folks are feeling: "Gotta say, this is the acquisition that really got to me. It's been clear the WP ecosystem has been changing for years, but for me this marks some sort of watershed "OMG I miss the old days" moment. The idea of a Pippinless WordPress is hard to take!"


StellarWP acquires LearnDash
Of course the other big news this week: "After nearly 9yrs, it finally happened… WPTavern actually wrote an article about LearnDash!! 🥲👏🎉🙌"

tweets

founder Justin Ferriman.


That and

StellarWP has acquired learning management system LearnDash

. Justin Tadlock has the story at WPTavern, reporting LearnDash will keep its team intact and continue to operate autonomously within the StellarWP and Liquid Web family of brands, which includes iThemes, GiveWP and Restrict Content Pro.


Acquisitions don't happen overnight, as Ferriman well knows,

tweeting

, "selling LearnDash was an 11 month journey. I hired investment bankers to do the deal and learned a ton." He shared more in

Selling LearnDash

, revealing he'll be staying on to see LearnDash 4.0 released in early 2022 before becoming an active advisor to the company.


"Fascinating read on how @justinferriman sold LearnDash,"

tweeted

Automattic developer advocate Birgit Pauli-Haack.


Efficiently deliver results for clients.
Manage all your projects with the Hub — free.
The Hub by GoDaddy Pro is an all-in-one site, client and project management solution tailored to the needs of web designers and developers. No matter what stage your business is at, the Hub's integrated tools help you save time, boost collaboration, and expand your day. Learn more.
Yoast announces 2021 Yoast Diversity fund recipients
Let's take a break from acquisitions for a moment to celebrate the amazing people who have been named this year's 2021 Yoast Diversity fund recipients.


"🎉

I will do everything I can to help others succeed. I'm so lucky to have this opportunity. 🎊 Thank you, @yoast! 🙏🏾"

tweets

developer TC Cazy, one of six people to receive financial support for their contributions to WordPress. Other recipients include Milana Cap, Mary Job, David Towoju, Estela Rueda Landeros, and Abel Lifaefi Mbula.




The fund was originally launched in 2018 to help increase the diversity of speaker line-ups at conferences, but with people not able to travel to in-person events due to the coronavirus pandemic,

Yoast relaunched the fund this year

to support underrepresented people whose work is making an impact in the WordPress community.


The recipients' individual stories are nothing short of inspiring and worth a read on the

Yoast blog

.


Job founded Uwani Hub to provide a safe space for teenagers to do tech in her underserved community of the Ijebu-Imusin area of Ogun State in Nigeria. The hub's goals include training 5,000 teenagers and women how to use WordPress by the year 2030.


Towoju is using his funding to set up WordPress bootcamps for his fellow Nigerians where he'll offer interactive training programs, teaching people how to code and helping them to become WordPress developers. One of his goals is to raise the standard of living amongst the participants of his bootcamps by increasing their chances of gaining better employment
The WP Minute's "fantasy league of WordPress"
Brian Gardner is back at WP Engine, this time leading WordPress developer relations. It's a role he

tweets

will involve "helping folks through the transition to the block editor and full site editing (via Gutenberg)". The move comes after he recently launched his latest premium theme project, Frost.


"I guess I might as well make a bio change today like the rest of the cool kids,"

tweeted

Kathy Zant, who has left Wordfence after many years as Director of Marketing to head up content marketing for Ninja Forms and parent company Saturday Drive's Ciircles project.


Rich Tabor has joined Extendify after leaving his post as Senior Product Manager of WordPress Experience at GoDaddy. He

tweeted

, "@extendifyinc has been making quite a splash, notably acquiring tools that extend Gutenberg. I'm stoked to jump on board as Head of Product, driving the innovative front this team has pushed on. I suspect you'll hear a lot more about Extendify soon ;)"


Carole Olinger is now the Social Media Manager at XWP. A self-described "WordPress community junkie," Olinger was formerly WordPress Community Manager at Plesk. Her

WordCamp Torino 2018

talk about falling in love with the community and attending every WordCamp she possibly could is just three years old but somehow feels nostalgic.
Annnd more on acquisitions...
According to

Post Status's Acquisitions tracker

, there have been a staggering 37 acquisitions in the WordPress space so far this year, compared to just 13 in 2020 and 12 in 2019.


"The pandemic isn't directly responsible for the surge in WordPress acquisitions, but it's certainly accelerated some decisions,"

tweeted

Iain Poulson, co-founder of private acquisition marketplace FlipWP.


"So many acquisitions, so many thoughts, so many opinions... so much uncertainty,"

tweeted

RebelCode CEO Mark Zahra who asks

Is There a Future for Small WordPress Businesses?

He raises concerns about Awesome Motive's data reach across the WordPress ecosystem, given the company recently acquired Plugin Rank from Poulson, giving it insight into the WordPress plugin repository, and now owns Easy Digital Downloads and AffiliateWP, both of which are used by many plugin sellers to run their businesses.


"This potentially gives one company access to information about the WordPress market as a whole that no one else has and, in my opinion, no one person/company should have," says Zahra.
Meanwhile, "WordPress acquisitions are HOT right now. But almost all of them are US based. Why is that? India has a lot of great #WordPress companies,"

wondered

GiveWP co-founder Devin Walker.


And PeachPay

tweeted

"It's the board game you never thought you needed..." sharing its design for WordPressopoly. On the Business Bloomer blog, PeachPay co-founder David Mainayar shares his thoughts on the consolidation that's underway in

WordPress Acquisitions Are Not a Game Anymore

.
WordCamp US kicks off next week
In news we're relieved to report has absolutely nothing to do with acquisitions, WordCamp US is on October 1. The

full schedule

for the one-day event is out and includes an impressive line-up of speakers.


Cory Webb, who leads plugin development at Fast, will demystify Gutenberg blocks for developers, and developer Sienna Svob's session will provide actionable advice for developers concerned with sustainability. Helen Hou-Sandí, an OG WordPress lead developer and 10up's Director of Open Source Initiatives, will speak about her work on the

whitehouse.gov

website.


Bet Hannon, the founder and CEO of BH Business Websites,

tweeted

"Really excited to be a leadoff speaker at #wcus on Oct 1! I'll be speaking about web accessibility, and there are tons of other great talks in the lineup!"




"How does one become a leader in #WordPress? Easy, just follow my "simple" 10-year plan: 1. Poverty to WP dev; 2. to Local WordCamp org; 3. to Community contributor; 4. to Global Leader. Hear my "Not an Overnight Leader" story at @wordcampus Oct 1!"

tweets

Jill Binder, who leads the Diverse Speaker Training group in the WordPress Community Team.


The Repository is a proud media partner of WordCamp US 2021.
New version of Gutenberg now available
Gutenberg 11.5 is out. It's a "hefty release" and includes extensive changes to the Navigation block, a new way for grouping widgets, and more block gap feature integration, reports Justin Tadlock at WPTavern.


In theme news, Anders Norén, known for designing and developing the Twenty Twenty default WordPress theme, has released Tove, a fun and colorful theme built entirely around the Full Site Editing Features coming in WordPress 5.9.

Justin Tadlock reviewed the theme

, which Norén

described

as "Like a plateful of macarons. 😋"


How to use the Query Loop Block to create custom WordPress layouts

Have you wanted to show a preview module of multiple posts? The Query Loop Block, released in WordPress 5.8, allows you to do this using just WordPress. You no longer need to custom code this functionality or use a plugin or theme to achieve this.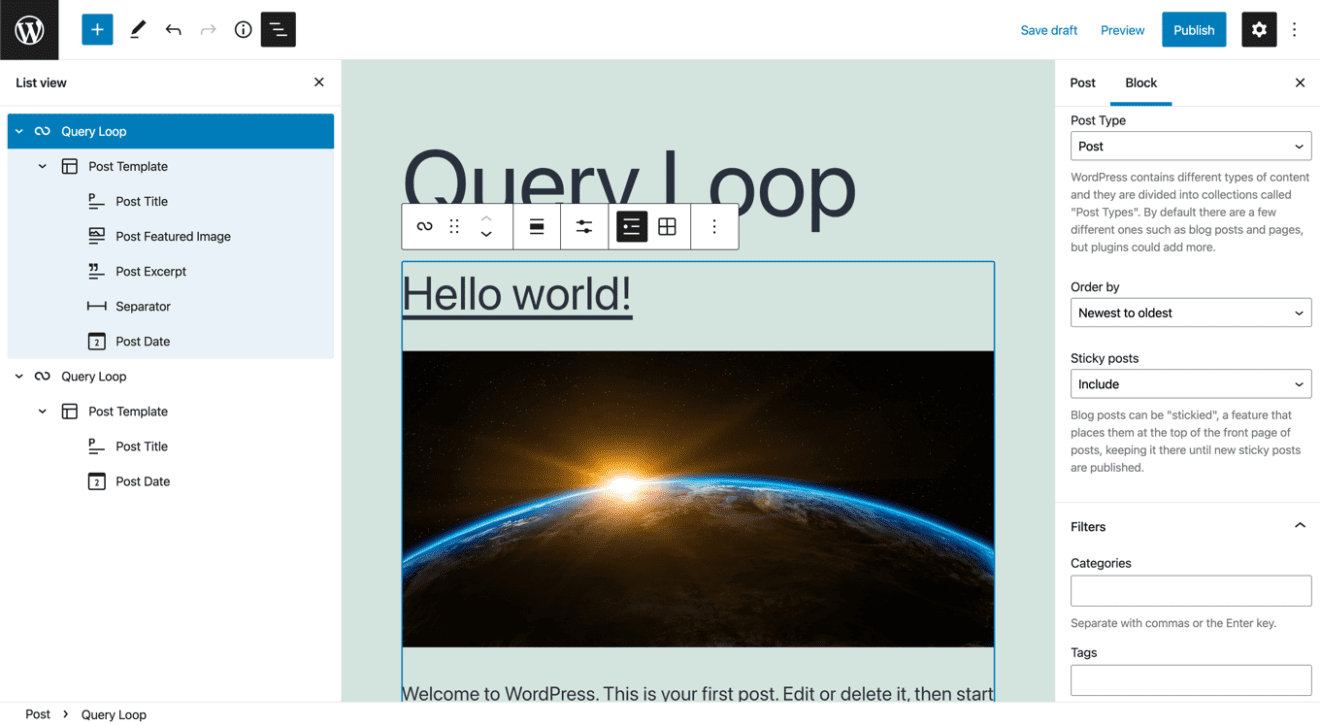 What is the Query Loop Block?
Don't let these developer-oriented terms confuse you. According to WordPress Developer documentation: The Query Loop Block is an advanced block that allows you to display posts based on specified parameters; like a PHP loop without the code.


In WordPress, The Loop means to display specific data in a repeated manner. Each post generally shows a title, author, date, post content, and comments. This grouping of content would fetch data for each post displayed to include the same things on each unique post.


But what if you wanted to show just a preview of content?

That is where the Query Loop Block shines. Query means to ask. If you want to show the next six posts as previews containing the image, excerpt, and author, you can ask the database to display that information.


How do I use the Query Loop Block?
To use it, begin by inserting a block.



In other WordPress news...
Wordfence is urging Ninja Forms users to update to the latest version after disclosing two vulnerabilities

that make it possible for an attacker to export sensitive information and send arbitrary emails from a vulnerable site that could be used to phish unsuspecting users. Threat analyst Chloe Chamberland said Ninja Forms is installed on over 1 million websites.
The Hub by GoDaddy Pro was created to streamline your workflow and save time on tasks that typically eat up a workday. But we aren't done yet. See the latest Hub updates and

changelog here

, and then

explore the Hub by GoDaddy Pro – it's free!

Sponsored link
"We've just hit a rather large milestone. ACF is being used on over 2 million sites 🎉 Thank you to all our users!"

tweeted

the team at Advanced Custom Fields. "Congratulations on an epic milestone, thanks for helping make WordPress better for everyone!"

tweeted

the Pods Framework team. The milestone comes after Delicious Brains, the company behind WP Migrate DB Pro, acquired the popular ACF plugin in June.
Atarim founder Vito Peleg and Investor Andrew Palmer have launched Bertha.ai, an AI-based writing assistant they say has been trained on hundreds of billions of lines of content to help people write better content for WordPress websites. The product is so far getting rave reviews, with Web Squadron founder Imran Siddiq

tweeting

"The New AI Written Content for Wordpress & Elementor - by

Bertha.AI

is awesome! I've done a review of it and was blown away at how it gets the creative juices flowing. Forget Writer's Block now!" Siddiq linked to his

review on YouTube

.
Not subscribed? Join the most conversational weekly email
in the WordPress community!