Happy Friday! It's May 26 and we're celebrating WordPress' 20th anniversary tomorrow. This week we're covering how folks are marking the occasion. Plus, we've published our first long-form interview – we spoke to Evangelia Pappa, one of WordCamp Europe's global leads, to find out what organizers are doing to increase diversity at the flagship event. First time reading? Sign up here.
Got an opinion? Send your thoughts, feelings and news tips to

[email protected]

.
This week in WordPress
1. 20 years of WordPress 🥳
WordPressers everywhere are celebrating our favorite CMS's 20th anniversary.


For a quick snapshot of how people are celebrating, check out the #WP20 hashtag on Twitter.


"Remember what the web was like 20 years ago? We do.... take a trip down memory lane with @WPEngine and explore the past two decades of WordPress," tweeted WP Engine founder Jason Cohen, linking to wptimemachine.wpengine.com. The retro site mirrors the look and feel of WordPress 1.0 "to remind you just how far we've come as a community."


For more highlights ahead of tomorrow's anniversary:

2. Diversity & WordPress: Q&A with WordCamp Europe Global Lead Evangelia Pappa.
Evangelia Pappa, one of WordCamp Europe's three global leads, has called on the WordPress community to help organizers rather than call them out, saying recent criticism about the apparent lack of diversity in the speaker lineup had impacted the mental health of volunteers who had gone to great lengths to try to increase diversity at the upcoming event.


Speaking to The Repository, Pappa said while fellow global lead Sjoerd Blom had apologized publicly for calling Michelle Frechette 'prejudiced,' his tweet did reflect the frustration felt by the organizing team.


"I read comments from people calling us idiots, misogynists, racists, and that we cannot wash the blood off our hands," Pappa said. "The negative comments I see on social media are, I believe, dangerous for the community. They can make people hesitate to volunteer as organizers for events or even discourage hard-working volunteers from participating in the future. What is the point of contributing and committing when somebody calls you these names?"


Pappa, who works in HR at WPMU DEV, said this year's organizing team had explored many different ways to increase the diversity of its speaker lineup, including direct outreach to underrepresented groups and individuals, blind voting to remove bias when choosing speaker talks, introducing a third track to accommodate more speakers, and the addition of a new panel discussion with women and non-binary folx.


This year, WordCamp Europe also launched a new Speaker Support Program to provide financial assistance to people traveling to Athens for the 8-10 June event – but only one company applied, said Pappa.


She said despite volunteers' best efforts to lift up underrepresented voices, creating a diverse and gender-balanced program with topics that appealed to attendees had been challenging, particularly when "people don't apply, even if you reach out and invite them to speak."


"It is a very multi-layered issue. [Diversity] is a problem not only for flagship events but also for contributions to WordPress. It's a problem that should be discussed in contributor channels on Slack for Make WordPress and WordPress.org," Pappa said.


She said there needed to be a bigger effort to address diversity in the WordPress community.
"It's not enough to simply call out organizers from every WordCamp Europe or every WordCamp US or every WordCamp Asia when they announce the speakers, because this is work that has to be done far earlier," she said.


The Repository is a media supporter of WordCamp Europe.
3. WordPress 6.2.2 released with restored shortcode support and security fixes
Users are advised to update immediately to the latest secure version of WordPress. As we reported last week, some users disabled auto-updates and implemented insecure workarounds, or simply downgraded to WordPress 6.2 to keep critical functionality working on their websites.


Props to the tireless core contributors who worked on this release, in particular Bluehost-sponsored core contributor Jonathan Desrosiers. David Baumwald, a core committer and member of the WordPress Security Team, tweeted, "Appreciation and recognition for the people actually doing the things in WordPress Core is nonexistent. To coordinate a very fast WP 6.2.2, @desrosj started at 9:00 AM on a Fri and didn't quit until the final release at ~2:00 AM on Sat. Legend. I hope folks appreciate it."
Business Spotlight: Nexcess
In other WordPress news
WordPress project
> The WordPress Performance Team has published a summary of core performance analysis completed during the WordPress 6.2 release cycle along with priorities for improvement, including template loading for classic themes and translation loading, since more than 56% of all WordPress websites use translations (WP Tavern)


> Gutenberg 15.8 has inched toward a more holistic editing experience by adding a Pages menu to the site editor. Users can now view their 10 most recently-updated pages and easily begin editing each of those pages' content (WP Tavern)


> Core committer Adam Zielinski joined guest host Rich Tabor on the WP Briefing podcast this week to talk about WordPress Playground, a browser-based WordPress environment. The episode covers how folks can contribute to the project, and Zielinski's vision for how it could enable WordPress development on mobile devices (WP Briefing)


> On the latest episode of WP Tavern Jukebox, Automattic-sponsored contributors Mario Santos and Luis Herranz explain how the Interactivity API could offer an improved site visitor experience. Originally proposed back in March, the Interactivity API would facilitate "fluid and idiomatic front-end interactivity on block-based WordPress sites." (WP Tavern Jukebox)


> Luis Herranz, an Automattic-sponsored contributor who joined the company in 2021 when his framework Frontity was acquired, tweeted a hint of what's to come in Gutenberg 15.9: "Gutenberg 15.9 will include 3 experimental blocks built with... The Interactivity API! 🚀 (who would've guessed? 😅) - The Navigation and File blocks are now powered by it - The Image block has new optional 'behavior' that expands the image when you click on it 🔎 Stay tuned!" (Twitter)
WordPress & AI
> Human Made co-founder and CTO, Joe Hoyle, joined the Press This podcast to discuss AI's place in WordPress agencies ahead of this week's Word on the Future virtual conference, including technology stacks and how his agency is using AI in its client work (Torque).


> The team at WPMU DEV asked ChatGPT to build a WordPress plugin, then examined the code. Without giving away too much, we'll say the team found that AI is unlikely to "replace skilled coders any time soon." (WPMU DEV)


> GoDaddy has published a library of generative AI prompts for small businesses, covering everything from starting a website to making business decisions, marketing, productivity, copywriting and customer service (GoDaddy)


> WordCamp Europe has announced this year's program will include a panel discussion focused on AI in WordPress. Panelists will include Shane Pearlman (founder of Modern Tribe), Daniel Kanchev (Director of Product Development at SiteGround), Gabriella Laster (Senior Product Marketer at Elementor), Sujay Pawar (CEO of Brainstorm Force), and Constanze Kratel (Senior Developer Relations Manager at BigCommerce) (WordCamp Europe)
Plugins & themes
> A new MariaDB Health Checks plugin is now available on WordPress.org, thanks to the efforts of contributors involved in the 2023 CloudFest Hackathon in Germany. MariaDB is a popular open source database used by those looking to further scale their websites since it's generally faster than MySQL with better support for a concurrent number of connections (WP Tavern)


> Advanced Custom Fields (ACF) Product Manager Iain Poulson joined the Press This podcast this week to discuss new features in AFC 6.1. With this version, developers can now register custom post types and custom taxonomies from within the plugin (Torque)
Products & plaforms
> WordPress.com has released wp-now, a new local WordPress development environment powered by WordPress Playground. It uses a command line interface and is available via an NPM package (WP Tavern)


> Developer Robert DeVore has released IntelliPress, a virtual AI-powered assistant for WordPress. The plugin offers content creation and SEO functionality (IntelliPress)
Events & conferences
> In addition to the 21 official Make teams that will have tables at WordCamp Europe's upcoming Contributor Day, there will be several other initiatives attendees can contribute to, including teams working on sustainability, WordPress Playground, feature notification, and Meta-WordCamp sites (WordCamp Europe)


> WPCampus will take place from July 12-14 in New Orleans. The organizing team released their schedule, and it's chock-full of workshops, lightning talks, panels, and opportunities to mingle. Thanks to the event taking on a hybrid model, you can join in person or online (WP Campus)
Security
> Wordfence is urging users of W3 Eden's Download Manager plugin to update to the latest version after disclosing a vulnerability in the popular plugin back in April that allowed bad actors to inject malicious web scripts into sites. The plugin has over 100,000 active installs (Wordfence)


> Speaking of Wordfence, the team has published its weekly WordPress vulnerability report covering 82 vulnerabilities found in plugins, themes, and WordPress core (Wordfence)


> iThemes has published its own WordPress vulnerability report covering 97 total vulnerabilities, 64 of which have security patches available (iThemes)
#WPCommunityFeels: Lisa Sabin Wilson



A podcast worth listening to: The Knowledge Project. Hosted by Shane Parrish, the premise is to uncover the best of what other people have already figured out so you can use their insights in your life, for example.


A concept worth understanding: Everything you know has an expiration date. Knowledge has a half-life, or the time before half of the knowledge in one area is outdated or proven untrue. Fully understanding this concept will turn you into a life-long learner. "If knowledge is power, knowing what we don't know is wisdom." - Adam Grant


A Twitter account worth following: Jason Cohen is the founder and Chief Innovation Officer of WP Engine and I have always enjoyed his Twitter account, @ASmartBear (Subscribe to his long form articles, too!) He always shares great knowledge and concepts in tech, leadership business, and the like.


An article worth reading: An article I recently read in the

New Yorker

was titled "Notes from Prince Harry's Ghostwriter," a fascinating one written by the ghostwriter for Prince Harry's book,

The Spare

. It is an interesting peek into the world of a ghostwriter, which I find interesting as a writer. The article also speaks to the craziness of the role press and media play in our lives in this moment… the seediness of clickbait and the prevalence of "fake news."


A habit worth forming: The habit of active listening. Hearing is passive, but listening is hearing PLUS paying attention in order to take in, and process, what is being said before making assumptions, judging or rendering an immature opinion on what is being said. Plus, it's respectful to the speaker. Here is a great article on it from Very Well Mind.
Together with GoDaddy Pro
GoDaddy Proudly Celebrates the 20th Anniversary of WordPress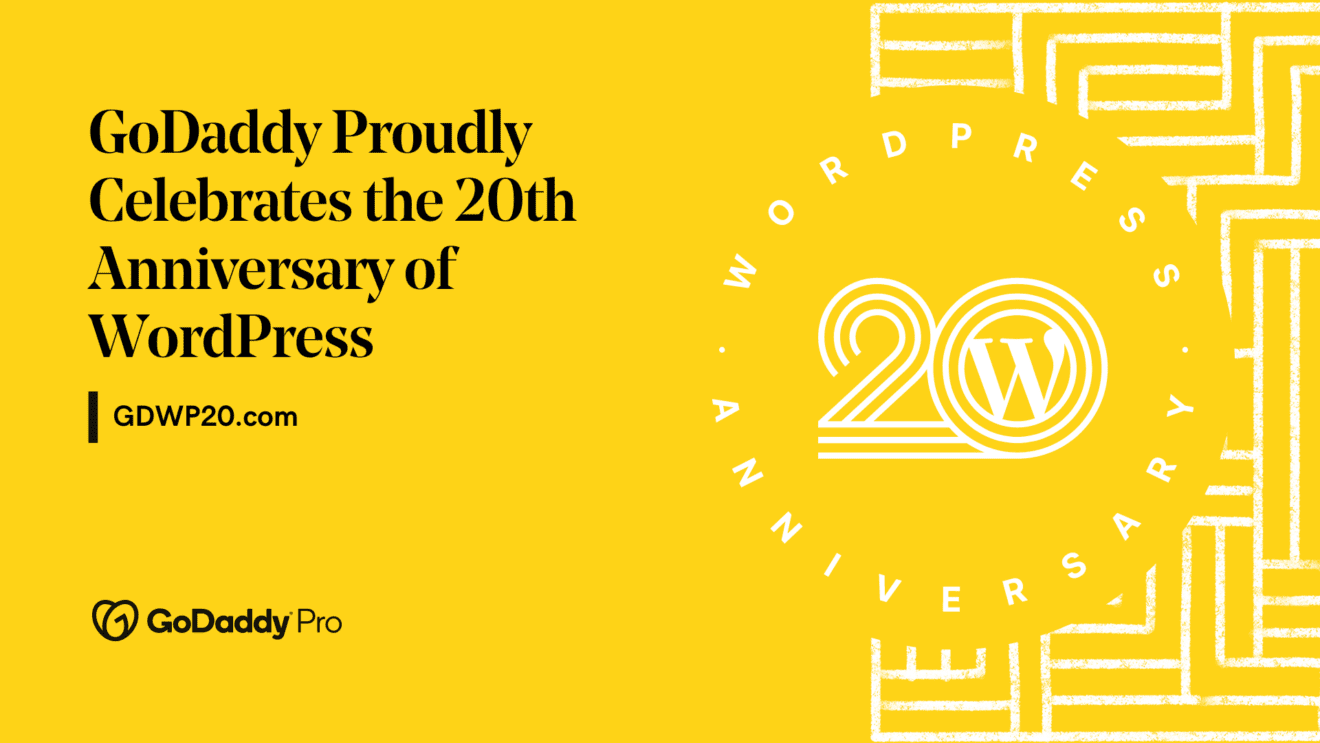 As a proud Gold sponsor for WordCamps across the globe, we at GoDaddy are thrilled to be celebrating the 20th anniversary of WordPress in 2023. We're deeply committed to the WordPress community, fostering an active, nurturing environment through initiatives like WordCamp sponsorships, dedicated contributors, and our weekly GoDaddy Pro meetups.


In addition to our Managed WordPress Hosting, we've also developed The Hub and Pro Academy, which offer free resources for managing multiple WordPress instances and for learning from a suite of free courses and eBooks. We're also very proud to say that we sponsor 48 contributors across 15 teams. This is part of our ongoing commitment to contribute to and support the WordPress ecosystem.


Happy anniversary, WordPress. Here's to 20 more!


Hear from our team about what 20 years means to us here.
Meanwhile...
🤖 Gutenberg YouTuber Jamie Marsland has launched an interview series exploring how AI could disrupt WordPress. The first episode features Motivations AI CEO Chris Lema.


🗄 In the latest episode of WPwatercooler, Guildenberg founder Jonathan Wold and GoDaddy open source developer advocate Courtney Robertson ask if there's space for the pressure-inducing corporate boardroom in the WordPress community.


👨‍👩‍👦‍👦 Episode #46 of Practical Founders shares the story of Pagely founders Joshua and Sally Strebel, who managed to balance work and family life while they bootstrapped their hosting company.


📋 Automattic-sponsored WordPress contributor Jonathan Bossenger has launched a State of WordPress Development Tools survey that takes just two minutes to complete.


📸 You can support the WordPress project by contributing photos to the WP Photo Directory, which houses Creative Commons-licensed images supplied by other members of the community.


👁 Post Status's Cory Miller explains themes, color contrast, font, and other choices can make or break your site's accessibility.


🎙️ Matt Mullenweg joined the Design Better podcast to talk about jazz, generative AI, distributed work, and his journey as an entrepreneur.
The Repository started as a passion project by two former journalists who wanted to spotlight news from across the WordPress ecosystem. Do you enjoy reading it? Take a minute to share this email with your friends and colleagues—we'd appreciate it!
The Repository is a weekly email for the WordPress community by Rae Morey. Also on our team: writer Adrianna Nine, proofreader Laura Nelson, and columnist Jonathan Wold. Thank you to Kinsta, our web hosting sponsor, and MailPoet, our email sponsor.
Send your feedback to

[email protected]

and help us provide the news that matters to the WordPress community. We're here to listen.