Happy Friday! It's June 2 and we're recovering after WordPress' 20th anniversary celebrations. This week we're covering how WordPress' co-founders marked the milestone, WordCamp Europe 2023, and a proposal to establish a WordPress Sustainability Team. First time reading? Sign up here.
Got an opinion? Send your thoughts, feelings and news tips to

[email protected]

.
This week in WordPress
1. WordPress celebrates 20th anniversary with global meetups, Matt Mullenweg launches Audrey Scholars
WordPress 20th anniversary celebrations hit a peak last weekend with meetups held around the world, according to the official WP20 website.


Marking the occasion with a video acknowledging the GPL as the key to WordPress' success, co-founder Mike Little also tweeted that it has "grown from a comment on a blog post to a web spanning phenomenon. Thanks to an outstanding community and the freedoms of Open Source."


On his blog, co-founder Matt Mullenweg added that "we had a shared conviction that the four freedoms of the GPL combined with a mission to democratize publishing was something worth spending our time on."


Mullenweg marked the milestone by publicly launching Audrey Scholars, a program aimed at the children of parents or guardians who have contributed significantly to open source, or have been significant in his life.


Currently, there are 13 scholars though Mullenweg hasn't shared who they are or how much they received as part of their scholarship, but he does hint at succession: "I'm curious to see how it unfolds and perhaps one day an Audrey Scholar could even take the responsibility of leading WordPress, when my capacity to do so has passed."


Audrey Scholars is run by Audrey Capital, Mullenweg's angel investment and research company.


For more 20th anniversary highlights:

2. WordPress and Drupal co-founders unite to discuss open source, AI, and the future of the web
Meanwhile, WordPress co-founders Matt Mullenweg and Mike Little recently joined Drupal founder Dries Buytaert at a private event to talk about the life-changing impact of open source. "I consider all proprietary software to be an evolutionary dead end," Mullenweg says, adding that when open source can't reach people, the second-best option is to strive for a top-tier user experience.


Mullenweg and Little emphasized that Gutenberg's dual MPL license was chosen for its commercial applicability. The duo even expect AI to boost WordPress' open source mission: Because GPT4, a popular AI model by OpenAI, has "read" Drupal and WordPress code, it'll write open source websites.
3. WordCamp Europe 2023 kicking off in Athens next week
WordCamp Europe kicks off next Friday and folks are making their way to Athens, Greece, including GoDaddy Pro's Adam Warner who "can verify the Mediterranean waters are crisp and refreshing! 💦"


Other than the amazing weather, what can folks expect from this year's WordCamp Europe? Here's a round-up:

Nearly 3,000 tickets have been sold for the two-day event, with some General and Micro-Sponsor tickets still available.
WCEU will be running three tracks for presentations and two tracks for workshops.
A new Wellness Track will feature yoga, Tai Chi, and a group hike.
Six events will be hosted in the WP Connect space focusing on contributing to WordPress, pitching, returning to in-person events, Five for the Future, developer relations, and WordPress Playground.
Seven panel discussions will focus on performance, AI, partnerships, women and non-binary folx, the future of WCEU, enterprise WordPress, and contributing to WordPress.
Matt Mullenweg and Josepha Haden Chomphosy will close out the event with a discussion about 20 years of WordPress.
Contributor Day will be held on June 8, allowing folks the opportunity to contribute to the 21 Make WordPress teams as well as other initiatives supporting sustainability in WordPress, WordPress Playground, feature notification, and Meta-WordCamp sites. There will also be a free workshop for kids.


The Repository is a media supporter of WordCamp Europe 2023.
4. Michelle Frechette advocates for a kinder, accountable, and inclusive community
This week, Michelle Frechette, StellarWP's Director of Community Engagement, shared her hopes for a kinder, more accountable, and inclusive WordPress in Drama, Accountability, and a Way Forward following recent controversy about speaker diversity at WordCamp Europe.


Frechette, who also co-founded Underrepresented in Tech, says she received personal attacks after sharing her observations about the WCEU speaker lineup and called for a stop to name-calling and harmful attacks.


She highlights a recent episode of the Underrepresented in Tech podcast about Diverse and Inclusive Event Speaker Selection, which explores the challenges of creating diverse lineups and offers suggestions to help achieve them.


"I recommend anyone who followed the #WCEU speaker announcements reads Michelle's follow-up piece," tweeted Megan Rose, Expert Community Lead at Codeable, adding, "And frankly, if we can't have an open conversation among event organizers about improving representation, do we even deserve to call ourselves a 'community?'"
5. Nora Ferreirós proposes WordPress Sustainability Team
According to Ferreirós, the team would be responsible for promoting digital sustainability on the web, encouraging WordPress events to be more sustainable, and helping the WordPress ecosystem become a leader in sustainability.


"Does #wordpress have to get involved in #sustainability? 💚 Some people* think so, they have launched a formal proposal for an official WordPress Sustainability Team, and now they need your support. Read it, leave a comment and support greenness," tweets Ferreirós, adding, "*yeah, I am "some people". Also @CsabaVarszegi, @nahuaibadiola, Thijs Buijs and all the Sustainability Make WordPress Slack Channel are 😬😂."


At WordCamp Europe 2022, Ferreirós asked Matt Mullenweg and Josepha Haden Chomphosy about their thoughts on supporting sustainability concerns within the community during the final day's Q&A. Mullenweg suggested setting up a new sustainability channel in Making WordPress Slack. The channel now has over 195 members.


Developer Marta Torre tweets, "Many times, you can support teams without having to work on them. And this is my case. The WordPress sustainability team is very important. Not only for social and environmental impact, but also for what it would mean for improving."
Business Spotlight: Sponsor us!
WordPress news for WordPress people→
Sponsor The Repository and promote your brand, product or service to an audience that is deeply invested in the WordPress ecosystem. Our highly-engaged readership comprises business owners, professionals, contributors, developers, influencers, consultants, marketers, and users—all smart people like you. Sponsor today.
In other WordPress news
WordPress project
> Building Blocks: The Evolution of WordPress, a book documenting the second decade of the WordPress project, was released last weekend (WordPress.org/book)


> Gutenberg 15.9 rolled out on May 31 with a new Command tool feature and enhancement to the Site Editor experience, including improved site view and drag-and-drop (Make WordPress Core)


> You can now opt-in to test two-factor authentication (otherwise known as 2FA) on your WordPress.org account. You'll need an authenticator app like Authy, Google Authenticator, or Keepass (Make WordPress.org)


> The Training team has released an analysis of the Individual Learner Survey results, revealing the majority of the 583 respondents were "very knowledgeable" about WordPress and 32% had been using WordPress for more than 10 years (Make WordPress Training)


> Official WordPress 20th anniversary swag is still available in The Mercantile store (The Mercantile)
WordPress & AI
> Is Automattic working on a top-secret AI plugin? Author and web entrepreneur Seth Godin recently hinted at such a tool on the Tim Ferris Podcast, saying "it is the single best use I have seen of ChatGPT or whatever they're using, being implemented in a way where it's not just, you know, a talking llama." (The WP Minute)


> This week, Human Made co-founder and CEO Tom Willmot recapped the company's Word on the Future: AI for WordPress virtual conference. If you missed Human Made's Word on the Future AI for WordPress event last week, all the videos from the virtual conference are now available to watch back on YouTube. The event featured talks by Human Made CTO Joe Hoyle (Accelerating the future of AI in WordPress), Elementor Head of WordPress Relations Miriam Schwab (Next steps in AI for Elementor), Immediate Media Head of Strategic Development Katja Eggert (The view from publishing: What enterprise clients need from WP in the era of AI), a panel discussion about AI and the future of WordPress, and more (Human Made & YouTube).


> Generative AI is a controversial topic, and communities are still working to figure out where they stand on the technology's use. Developer Marius L.J. has made a "suggested stance on the use of AI tooling" over on the WordPress Support blog (Make WordPress Support)


> Serial founder Dan Norris shared his experience using AI to write 20 blog posts in a single day (Dan Norris)
Products & plaforms
> WordPress.com is taking on Substack and others with this week's news that its Newsletter product is now supporting paid subscriptions and premium content, according to TechCrunch. First launched in December, WordPress.com Newsletter allows writers to automatically send out posts via email to connect directly with their audience. Journalist Sarah Perez says given WordPress.com's sizable footprint – WordPress powers 43% of the web, including WordPress.org — its shift into the newsletters market is significant (TechCrunch)
Mergers & Acquisitions
> One.com and WP Rocket owner Group.one has expanded its WordPress produce lineup with the acquisition of Rank Math. The plugin currently boasts more than two million active users, who use Rank Math to create and enhance SEO-friendly content (Group.one)
Security
> Jetpack 12.1.1 contains a critical security update that prevents bad actors from manipulating WordPress installation files. According to Jeremy Herve, a Developer Relations Engineer at Automattic, an internal security audit found the vulnerability with the API available in Jetpack since version 2.0, released in 2012 (Jetpack)


> Sucuri's May 2023 WordPress Vulnerability & Patch Roundup covers plugin exploits and the WordPress 6.2.1 security and maintenance release (Sucuri)


> iThemes also shared its WordPress Vulnerability Report, covering the WordPress 6.2.2 shortcode fix and 26 plugin and theme vulnerabilities (iThemes)


> According to Wordfence's weekly WordPress Vulnerability Report, last week 82 vulnerabilities were disclosed in 59 plugins and 11 themes, along with six in WordPress core (Wordfence)
#WPCommunityFeels: Jamie Marsland



A podcast worth listening to: The Adam Buxton Podcast. He's brilliantly funny, but also covers in-depth subjects with great guests. His Adam and Joe Christmas specials are on a different level (warning: contains irony and sarcasm).


A concept worth understanding: The WordPress templating system, which is especially useful if you are using a block theme.


A Twitter account worth following: @Ed_FilmBooth is great for those looking to get better at YouTube. He also has a great YouTube channel full of tips and tricks.


An article worth reading: Not quite an article, but a short story called The Machine Stops. It's a dystopian science fiction short story by E.M. Forster. It's well worth a read if you are exploring AI at the moment. It tells of a future where humans, living in isolation underground, are fully dependent on a giant machine for all needs. Communication is virtual and physical contact is shunned. The protagonist's son, Kuno, warns about the machine's impending failure after experiencing the real world. When the machine eventually breaks down, society collapses, as people lack the skills to survive independently. The story critiques over-reliance on technology and the loss of connection with human nature and the natural world.


A habit worth forming: Phoneless walks. I've started daily walks in the hills near where I live. The important bit is to not take a phone. The walks should be at least 45 minutes long. It's incredibly good for the soul!
Together with GoDaddy Pro
Join the GoDaddy Team at WordCamp Europe!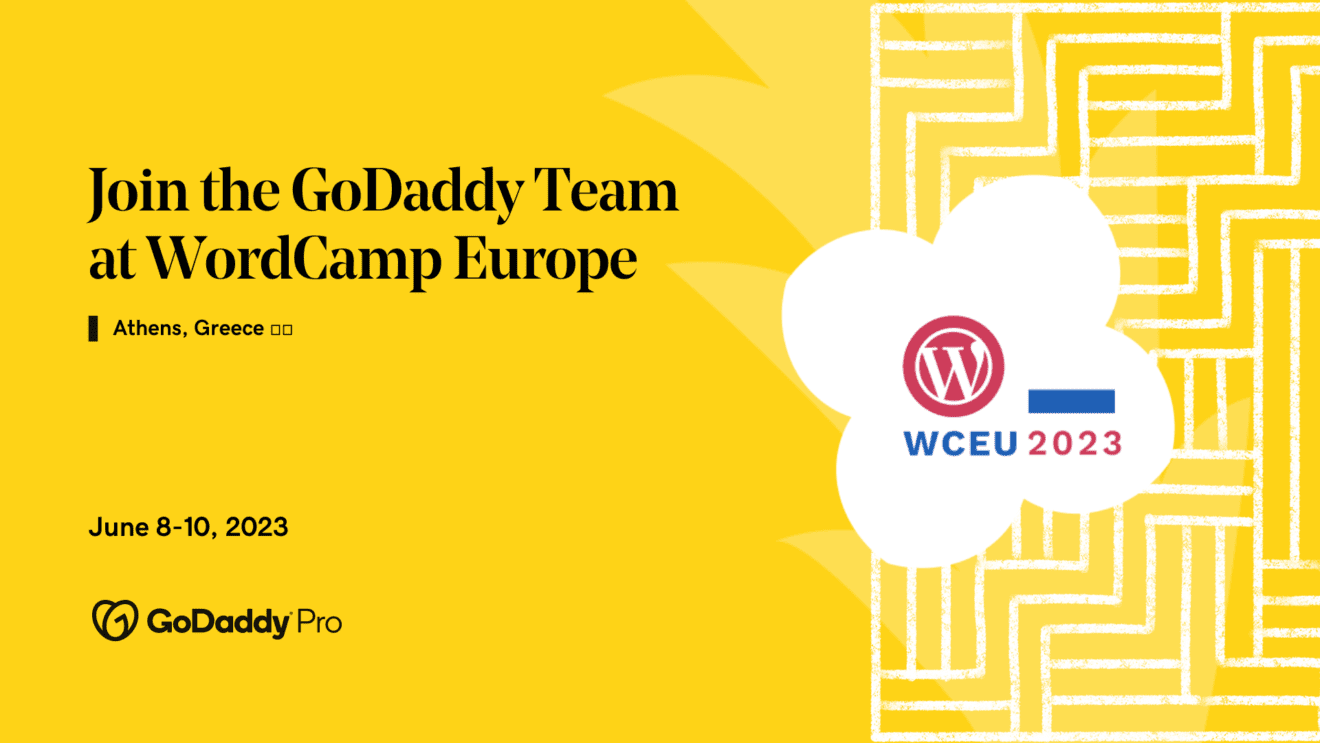 Hey, WordPress community! Get ready for an epic adventure at WordCamp Europe in Athens, Greece from June 8 to June 10!


This isn't your average conference; it's an acropolis of WordPress wonders, filled with ouzo-fueled fun, enlightening talks, and networking opportunities with your fellow WordPress friends.


In addition to scoring some awesome swag, come hang out with the GoDaddy crew and chat about WordPress and WooCommerce. It'll be more thrilling than facing the Minotaur! And hey, don't forget to register for our giveaway.


Whether you're a coding oracle, design muse, or content Zeus(ette), there's something for everyone under the Greek sun. So, hop on your Pegasus and make your way to WordCamp Europe in Athens and stop by to see the GoDaddy crew! Let's conquer Mount WordPress together and have a mythically good time! Opa!


Meanwhile...
🎙 HumanMade co-founder Noel Tock joined Remkus de Vries' Within WordPress podcast to chat about the future of WordPress, specifically with Gutenberg, AI, and enterprise market opportunities in mind.


⏰ Speaking of the future, serial WordPress entrepreneur Mike McAlister joined the latest episode of WP Tavern Jukebox to discuss how block themes have renewed his passion for the platform.


🖋 In Criticism, Innovation and 'Caring Loudly,' MasterWP's Rob Howard references WordPress' developmental impasse, users' desire to push past the status quo, and how radical transparency might propel the community forward.


🖥 Hostinger's Head of Content Emma Young interviewed Tammie Lister, the first Gutenberg design lead, who shared how Gutenberg has evolved through experimentation and brings practical value to its users.


The Repository started as a passion project by two former journalists who wanted to spotlight news from across the WordPress ecosystem. Do you enjoy reading it? Take a minute to share this email with your friends and colleagues—we'd appreciate it!
The Repository is a weekly email for the WordPress community by Rae Morey. Also on our team: writer Adrianna Nine, proofreader Laura Nelson, and columnist Jonathan Wold. Thank you to Kinsta, our web hosting sponsor, and MailPoet, our email sponsor.
Send your feedback to

[email protected]

and help us provide the news that matters to the WordPress community. We're here to listen.