Happy Friday! It's June 16 and this week we're covering Matt Mullenweg's big donation to Drupal, Joost de Valk's CMS market share report, and Liquid Web's acquisition. Plus, we've got a WordCamp Europe 2023 recap. First time reading? Sign up here.
Got an opinion? Send your thoughts, feelings and news tips to

[email protected]

.
This week in WordPress
1. Automattic commits €20,000 to fund Drupal Gutenberg editor
Announcing the 'unexpected' funding on his blog following his keynote at DrupalCon last week, Drupal founder Dries Buytaert says the initiative was one of five winning submissions as part of DrupalCon 'Pitchburgh.'


"We want Gutenberg more tightly integrated with Drupal and to do this properly we need to gather the people who should be involved," says Gretland. "This is great opportunity to extend cooperation across open source projects and to move forward making Drupal the most easy to use enterprise CMS."


Buytaert says when he shared the Drupal Gutenberg editor project with Automattic CEO Matt Mullenweg, he was really excited about the idea of more Drupal sites using Gutenberg. As well as donating funds, Mullenweg has committed to sending Gutenberg contributors to join a sprint with Drupal contributors and frontkom's Gutenberg team to develop a module for Drupal core.
2. WordCamp Europe 2023 recap
WordCamp Europe 2023 wrapped up on Sunday and as LifterLMS founder and CEO Chris Badgett tweeted, "All WordCamps have been great, but this one holds a special place. TY organizers, sponsors, speakers, attendees, Greeks."


A total of 2,458 people from 94 countries attended the conference over the two days (and one Contributor Day), taking part in four WP Connect sessions, seven live-stream studio interviews, nine workshops, and 25 talks across three tracks.


Europe's biggest WordCamp concluded with the news that WordCamp Europe 2024 will be held in Torino, Italy, from June 13-15, 2024.


Here's a post-WordCamp Europe round-up:

Lastly, core committer and WordPress veteran Aaron Jorbin tweeted, "WordCamps to me are always about the connections you make. From the too quick conversations where you finally get to put a face to a name, to the conversations that go for hours and leave you inspired. Thankful to have had both this year at #WCEU. Athens, you have been amazing."


The Repository is a media supporter of WordCamp Europe 2023.
3. WordPress maintains dominance as world's leading CMS
WordPress is still the most popular CMS as the market remains "stable to the point of almost being boring," according to Joost de Valk in his latest CMS market share analysis.


This week, de Valk published his eighth biannual CMS market share analysis examining W3Techs' publicly available data. Amongst his findings:

WordPress has 43.2% market share, a 0.2% increase since July 2022.
Shopify is the second most popular CMS with 3.8% market share, down from 0.4% 11 months ago.
Wix's growth has slowed compared to previous years and holds 2.5% market share.
Prestashop grew by 0.3% in the past 11 months, overtaking Google Systems to become the eighth most popular CMS.
de Valk notes that Prestashop was acquired by MBE Worldwide in 2021 and its growth is now outpacing all other CMSs in the top 10, showing that "investment has been happening." He also notes that Shopify's loss in market share may be due to "drastic" changes in pricing in January. He says despite the decrease in its customer base, the company's Q1 2023 results show a 27% growth in revenue.


Not forgetting WooCommerce, de Valk says its, "market share is pretty much stable at 8.7%, which is where it was in July 2022 as well. Boring."
4. One Equity Partners' 'stealth' acquisition of Liquid Web raises eyebrows in WordPress community
One Equity Partners' acquisition of web host Liquid Web back in April flew under the radar until this week when Carl Hancock, CEO and founder of Gravity Forms, tweeted, "How does a large WordPress host and owner of numerous well known WordPress products get sold and literally nobody in the WordPress space reports it? Even the company itself kept it quiet. Gotta love private equity."


According to One Equity's announcement of the deal, they didn't just acquire Liquid Web but have formed a new holding company, CloudOne Digital. Collectively with Liquid Web and its family of brands, including Nexcess, StellarWP and Modern Tribe, CloudOne Digital serves over 187,000 clients and 2.5 million freemium customers worldwide, providing managed hosting, managed applications, ecommerce application tools, and other related software solutions.


Liquid Web's senior leadership team is transitioning to expanded roles at CloudOne, with Jim Geiger as CEO, Carrie Wheeler as COO, and Joe Oesterling as CTO.


"This is the first step in an aggressive expansion strategy we have planned for CloudOne Digital, applying OEP's transformational acquisition strategy to combine and integrate complementary businesses in the multi-cloud infrastructure segment," says One Equity's Managing Director Carlo Padovao.


Contention over the apparent secrecy surrounding the acquisition surfaced in Post Status Slack where Zach Tirrell, General Manager of StellarWP, explained that Madison Dearborn Partners, Liquid Web's investment partner for seven years, "came to the end of that cycle, our leadership secured a new deal with One Equity Partners."


However, Hancock wouldn't have a bar of it, posting, "I think part of the problem is the word salad which is used to minimize and downplay the nature of the deal instead of simply stating the truth: One Equity Partners isn't a new investment partner... it outright acquired Liquid Web from its previous owner."


Business Spotlight: Sponsor us!
WordPress news for WordPress people→
Sponsor The Repository and promote your brand, product or service to an audience that is deeply invested in the WordPress ecosystem. Our highly-engaged readership comprises business owners, professionals, contributors, developers, influencers, consultants, marketers, and users—all smart people like you. Sponsor today.
In other WordPress news
WordPress project
> Gutenberg 16.0 was released on Wednesday with page management now available inside the Site Editor. Users can now create and manage pages in the sidebar, reducing the need to constantly switch between editors (WP Tavern)


> New 'Community' and 'Commercial' filters are now live in the WordPress.org theme and plugin directories. They come after Matt Mullenweg announced plans to add the new taxonomies to make it easier to distinguish between free and paid products during last December's State of the Word. As WP Tavern's Sarah Gooding notes, so far, the number of themes tagged as commercial vastly exceeds the number of community themes (WP Tavern)


> Automattic-sponsored contributor Justin Tadlock's latest update on the WordPress Developer Blog covers the now-stable Details block, Interactivity API and Behaviors UI bundles, the now-public Command Center API, and more. Developers will be glad to hear that some significant steps have been made toward implementing synced patterns—though we're not totally there yet (WordPress Developer Blog)


> Matt Mullenweg has flagged the need to create a repository or page to promote independent organizations—like the WP Community Collective, HeroPress, and Support Inclusion in Tech—that "aren't 'official' WordPress things" but still exist to support the project's mission to democratize publishing (Make WordPress.org)


> The WordPress.org Pattern Directory has been updated with a new filter to switch between core-bundled patterns ("Curated") and general community patterns (Make WordPress.org)
WordPress & AI
> Gutenberg YouTuber Jamie Marsland sat down with Joost de Valk at WordCamp Europe to discuss the impact of AI on SEO. de Valk predicts web traffic will plunge and Google will become less of a referring source as more people turn to tools like ChatGPT for content, but he warns AI tools are designed to generate content, not truth, making fact checking all the more important (Twitter)


> Editor Eric Karkovack explores what AI could mean to WordPress and its users in his latest write-up for The WP Minute. He ponders the benefits, drawbacks, and strategic implementation options WordPressers should consider as they approach the technology (The WP Minute)
Plugins & themes
> WordPressers often seek out "do-everything" plugins to keep their total plugin count low. But that might not always be the best idea, argues Eric Karkovack. Instead, he says it's often small plugins that offer improved functionality (speckyboy)


> Brian Gardner joined a recent episode of the Press This podcast to talk about the recent inclusion of the block-based Frost theme in the WordPress.org theme directory. Gardner, a premium themes pioneer, sold Frost to WP Engine in December 2021 after joining the web host as Principal Developer Advocate (Torque)


> This August WooCommerce will introduce an update that, among other things, includes High-Performance Order Storage (HPOS). This is estimated to speed up order creation 5x and checkout 1.5x. Finding an order will be up to 40x faster on the backend (WooCommerce)
Products & plaforms
> Web host Kinsta has launched its first-ever sale. Until the end of July, get four months of free hosting when you sign up for an annual plan (Kinsta)
Enterprise
> During last week's Enterprise Gap Meetup held in Athens ahead of WordCamp Europe 2023, Human Made, Inpsyde, XWP, The Code Co, and Crowd Favorite announced the formation of the Enterprise WordPress Agency Alliance. According to Human Made CGO Noel Tock, the purpose of the alliance is to "bridge the gap between what we as WP companies and the software are capable of, versus how the market perceives us." Human Made CEO Tom Willmot says more details about the alliance are coming soon (Human Made)
Mergers, acquisitions & investments
> Marieke van de Rakt and Joost de Valk from Emilia Capital joined Michelle Frechette on the Post Status podcast to talk about their investment process – evaluating potential investments, providing feedback, and the importance of finding a good fit (Post Status)
Conferences and events
> WordCamp attendees are calling for changes to the Q&A format at live events, citing issues with attendees abusing the format for self-promotion or not asking relevant questions. Core committer Felix Arntz has proposed several ideas to improve the format, including submitting questions to a central platform for upvoting, discarding lengthy questions, and providing mandatory training for emcees on handling problematic Q&A situations (WP Tavern)


> WordPress Accessibility Day is now officially a 501(c)(3) nonprofit, allowing sponsorships and donations tax-deductible in the United States. The event, scheduled for September 27-28, is also seeking speakers and sponsors, with speaker applications closing on June 18 (WP Tavern)


> Big events like WordCamp Europe and WordCamp US garner a lot of attention, but what about smaller conferences? MasterWP's Nyasha Green has compiled a list of small WordCamps WordPressers can support by volunteering, sponsoring, signing up to be a speaker, or just attending (MasterWP)
Security
> Patchstack researcher Rafie Muhammad disclosed a WooCommerce Stripe Gateway vulnerability in April. As of May 30, WooCommerce has patched the vulnerability with version 7.4.1 (WP Tavern)


> The latest iThemes vulnerability report covers 56 vulnerabilities affecting up to 4 million WordPress sites. Of these, 37 plugin vulnerabilities and 3 theme vulnerabilities have patches available (iThemes)
#WPCommunityFeels:

Davinder Singh Kainth

This week, what's inspiring Davinder Singh Kainth, founder of The WP Weekly. He's gearing up to launch Pluginsly.com, a place to discover new and useful WordPress plugins.
A podcast worth listening to: The weekly live show at WPBuilds is my favorite, not just for new WordPress things but also seeing happy WordPressers talking about good things in the ecosystem.


A concept worth understanding: The vicious cycle of exploring and more exploring to find the best tools for building websites. Remember, the "best tool" used by your friend may not be the best for you. If tools in your stack work on a foundational level, then switching is unnecessary. Wear your goggles to shield yourself from shiny new things!


A Twitter account worth following: Kim Doyal for learning to flourish on the web and discover new web things worth your attention. Plus, the natural personality infusion in the shared content makes it even more relatable.


A habit worth forming: Listen to your body and give it profound attention for a healthy mind—and then you are all set to create fantastic web things!
Together with GoDaddy Pro
Join the GoDaddy Team at WordCamp Montclair!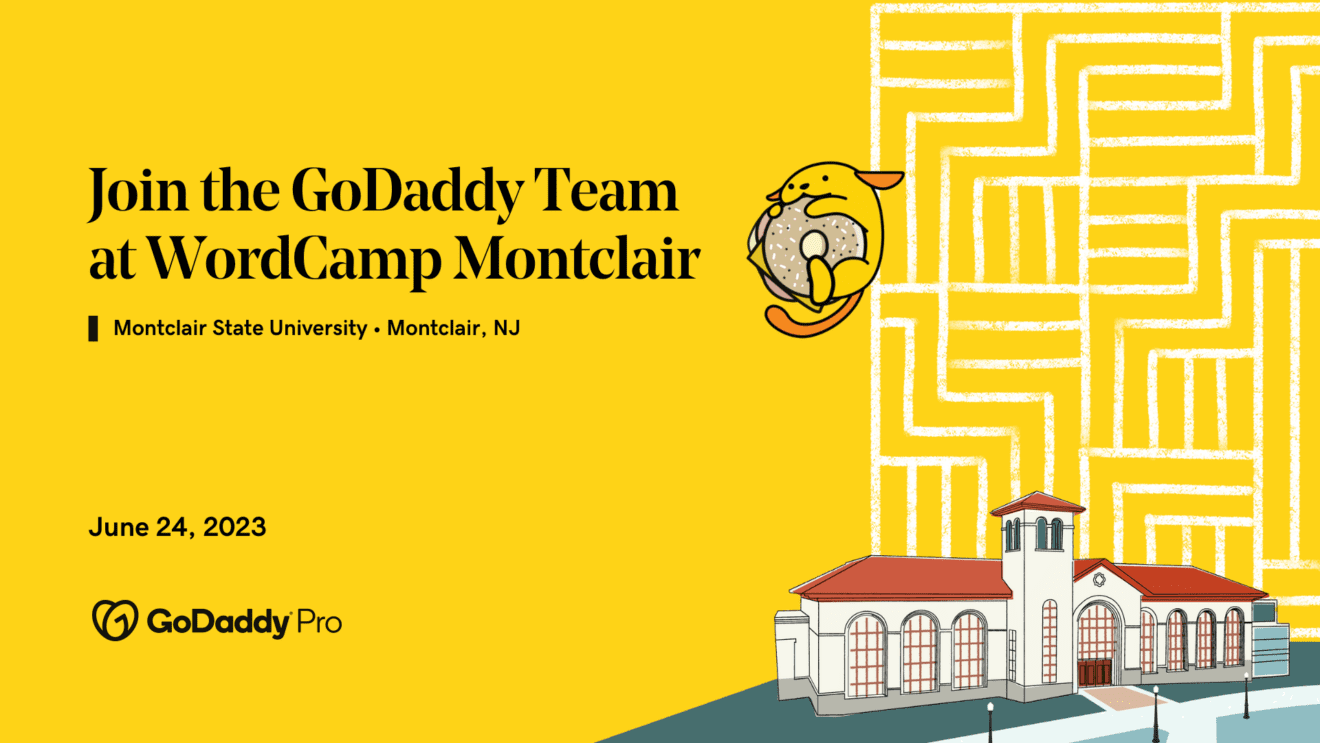 Get ready for WordCamp Montclair, a local New Jersey gathering of the WordPress community! Meet the awesome GoDaddy crew at our booth, snag some cool swag, and take your WordPress game to the next level!


The GoDaddy team is stoked to hang out with you at WordCamp Montclair. We'll be ready to share what we've been up to in the WordPress space and help you rock your website. Whether you're new to WordPress or a seasoned veteran, GoDaddy has your back.


But wait, there's more! Courtney Robertson from GoDaddy will be hitting the stage with her session, "We Are They: Fostering Belonging as a WordPress Contributor." Learn how to create an inclusive and welcoming WordPress community. Trust us, you don't want to miss it!


So mark your calendars and join us at WordCamp Montclair. Hang out with the GoDaddy crew, grab some epic freebies, and soak up all the WordPress awesomeness. It's gonna be a weekend of inspiration, networking, and mind-blowing learning. See you there!


Meanwhile...
👨🏼‍💻 After selling Advanced Custom Fields to Delicious Brains in June 2021, Elliot Condon is making a comeback.


🙌🏼 Folks have raised €1,840 to help photography contributor Nilo Velez Gamazo buy a new camera so he can continue documenting WordPress events.


🏅 Automattic has been ranked 20th in Newsweek's Global Most Loved Workplaces 2023 list.


The Repository started as a passion project by two former journalists who wanted to spotlight news from across the WordPress ecosystem. Do you enjoy reading it? Take a minute to share this email with your friends and colleagues—we'd appreciate it!
The Repository is a weekly email for the WordPress community by Rae Morey. Also on our team: writer Adrianna Nine, proofreader Laura Nelson, and columnist Jonathan Wold. Thank you to Kinsta, our web hosting sponsor, and MailPoet, our email sponsor.
Send your feedback to

[email protected]

and help us provide the news that matters to the WordPress community. We're here to listen.