Happy Friday! It's September 15 and this week we're covering this week's #wpdrama concerning WordPress.com and WordPress.org plugin rankings in search, 10up's merger with Fueled, Allie Nimmons's breakup with WordPress community, and more.
First time reading? Sign up here. Got an opinion? Send your thoughts, feelings and news tips to

[email protected]

.
This week in WordPress
1. WordPress.com versus WordPress.org ranking battle sparks heated debate and personal attacks
John Blackbourn, a long-time core contributor and Principal Web Engineer at Human Made, probably wasn't expecting his sweary 2am post about his WordPress User Switching plugin to blow up the way it did. But here we are.


Blackbourn's chief concern is that "… the process that introduced the directory clone on .com either disregarded its potential impact on .org in favor of inbounds or never considered it in the first place – both very concerning given the ranking power of .com."


But at the heart of the debate is the frustration felt by many in the community about the branding confusion between WordPress.com and WordPress.org. As Gooding notes, "Nothing short of renaming WordPress.com will eliminate the longstanding confusion, but this is unlikely as Automattic benefits from tightly coupling its products to WordPress' name recognition."


His comments left many scratching their heads, but as he clarified in Post Status Slack, his account wasn't hacked and he didn't have a fever: "You villainize someone enough and maybe they become a villain? I've been accused of this crap since Automattic started, 17 years now during which countless other businesses have started, flourished, even passed up. I've spent hours and hours with some of these people, on direct zooms, at WordCamps, more time than I've spent with most Automatticians!"
2. 10up and Fueled merge, pledging continued support for open source
Enterprise agency 10up officially broke the M&A drought this week (following the Great Acquisition Flood of 2021-22) with the news they've merged with Fueled, a technology consultancy that specializes in mobile and web application development. Sarah Gooding covered the story for WP Tavern: 10up Merges With Fueled, Backed by Insignia Capital.


Fueled who? As 10up founder Jake Goldman explains, "Fueled is to mobile and enterprise-grade online applications what 10up has been to WordPress and online content management and publishing: an innovator and leader driven by the values of customer service, creativity, and craftsmanship."


Gooding notes that integral to the success of 10up, which Goldman has scaled to $40 million in annual revenue, is the company's commitment to supporting the open source ecosystem from which it has derived millions of dollars in value. Fueled acknowledged this in its announcement about the merger: "10up has long held a commitment to the open web, and open source contributions as a core value. This will remain a priority, especially towards the WordPress community, and will be further strengthened by the additional market reach gained from the merger."


On X, 10up CEO John Eckman said he's, "Very excited about working with @Fueled on the next evolution of 10up's history."
3. Allie Nimmons announces breakup with WordPress community in candid post
"WordPress and I have decided to just be friends," posted Allie Nimmons this week, linking to The Great WordPress Breakup of 2023. In 1,400+ words, Nimmons, the instructor of the "WordPress Essentials" course on LinkedIn Learning and co-founder of Underrepresented in Tech, explains why the label "WordPress community person" no longer fits her.


Known for "caring loudly" on X (formerly Twitter) on issues involving DEIB and her advocacy work supporting underrepresented folks, she says after eight years working with WordPress, she no longer sees a professional future for her that involves the community.


"My character has been attacked when I ask for what I deserve. I've seen money funneled into retreats and networking events and CEO's pockets while employees are fired when the money runs out. I've seen my coworkers ganged up on, gaslit, ignored, and emotionally abused. And these are just the smaller companies," she writes.


Nimmons' post drew overwhelming support on X and in Post Status Slack, where members resonated with Nimmons' assertion that, "There is a huge disconnect between the people making the 'real' money with this software and the people who are trying to earn a fair living."


On X, writer Eric Karkovack posted, "This is incredibly sad. @allie_nimmons has been a bright light in the #WordPress community. But the struggles she describes here are difficult to read. And it sort of reaffirms why I'd rather do my own thing than work for some corporation."
Sponsor
The first WordPress hosting you'll love, the last you'll ever need →
Easily deploy and manage blazing-fast sites across our Managed WordPress Platform – powered by 20iCloud, AWS & GCP. We've baked in your favorite tools; staging, cloning, backups, CDN, Edge Cache, image/code optimisation suite, SSLs, business-class email and WordPress Manager – no bloaty plugins required. Expect more from your WordPress hosting.
In other news
WordPress project
> The WordPress Training Team is seeking feedback on the Learning Pathways project, an initiative launched in July to provide progressive, user-friendly learning pathways tailored to different types of learners on Learn WordPress (WP Tavern)


> Devin Maeztri, an Automattic-sponsored community contributor, has recapped the WordPress Community Team's work ushering in the next generation of WordPress events. Four pilot events were successfully held in July and August, with another five planned before the end of the year (Make WordPress Community)


> Last month, a group of Openverse maintainers met in Copenhagen, Denmark, to sync on the project, discuss planning for next year, and connect with the staff from Statens Museum for Kunst (SMK), Denmark's largest art museum, to discuss open media and licensing topics (Make Openverse)
WordPress Community
> StellarWP's Michelle Frechette interviewed WordPress Executive Director Josepha Haden Chomphosy about WordPress 6.4's underrepresented gender release team, why it matters, how it works, and what's in store for inclusion in WordPress (StellarWP)


> Do the Woo's series of native language episodes continued this week with Juan Hernando (Director at Vertixe), Ericka Barboza (Web Developer at Kekablue), and Javier Casares (CEO at WPSysAdmin) recording a lively conversation about the WordPress community in Spain and Latin America (Do the Woo)


> Thinking about contributing to WordPress? WordPress 6.3 co-leads Ahmed Kabir Chaion, Leonardus Nugraha, and Pooja Derashri share their experiences working behind the scenes on the latest release (Hostinger)
WordPress & AI
> This week, Human Made hosted AI: The Next Chapter, the second installment of its AI for WordPress event series. WordPress co-founder Matt Mullenweg and Human Made CEO Tom Willmot kicked off the event with a wide-ranging discussion about the origins of WordPress, the power of open source and where it intersects with AI, and what we might see in the future. Speaker Jamie Marsland, a prolific YouTuber and Gutenberg advocate who recently recreated TechCrunch in 30 minutes, shared his AI learnings and favorite tools despite being sick with COVID-19. The event is available to replay for free (Crowdcast)
Business, enterprise & acquisitions
> The Scale Consortium, a group of enterprise agencies including Crowd Favorite, Human Made, Inpsyde, The Code Company, and XWP, has welcomed several new agencies: Alley, Big Bite, Reaktiv, rtCamp, and WebDevStudios. According to Human Made CEO Tom Willmot, the consortium started formally working together not long after WordCamp Asia 2023 following conversations over the preceding six months. The group has since met at events at WordCamp Europe 2023 and WordCamp US 2023, and is working on launching a website (X)
Products & platforms
> The team behind Advanced Custom Fields (ACF), one of the plugins WP Engine acquired from Delicious Brains in 2022, has published the results of its first annual survey. The survey shows that ACF is still an important tool for its early adopters, with 50% of the survey's 2,031 respondents indicating they've been using it since its early days and 70% saying they use the plugin on all the websites they build (WP Tavern)


> On the 22nd episode of Launching a WordPress Product in Public, Post Status CEO Cory Miller and developer Corey Maass talk about the importance of having business cards to promote their plugin OMG IMG at WordCamp US 2023 (Post Status)


> WooCommerce recognized five agencies at the US WooExpert Regional Annual Awards, held at WordCamp US 2023. Winners include Zao, WPSpins, FirstTracks Marketing, Bright Vessel, and Kelp (WooCommerce)


> Nominations close today for the annual WP Awards. The awards celebrate the community's favorite plugins, themes, and services. Voting opens on October 2 (TheWPWeekly)


> As we reported last week, developers have renewed calls for better plugin metrics nearly a year since the active install growth charts were removed from the WordPress.org repository. This week, Sarah Gooding interviewed Paid Memberships Pro's Jason Coleman about his proposal to bring back the plugin metrics (WP Tavern)
Conferences & events
> The first batch of tickets to WordCamp Asia 2024 dropped today and quickly sold out. This week, the organizing team also announced a new Invited Speaker program, reminiscent of WordCamp US 2023's successful call for experienced and seasoned speakers operating outside the WordPress community (WordCamp Asia)


> #WPDiversity is running a free two-day speaker workshop on September 23 and 24 for Indian women in the WordPress community who are thinking about speaking at a WordPress Meetup or WordCamp (Eventbrite)


> Post Status will host the second annual WP Career Summit on October 20. Aimed at job seekers and hiring managers, the virtual event is the only one of its kind focused on careers for WordPress (WP Career Summit)


> Page Builder Summit 6.0 kicks off on September 18. The five-day virtual event will focus on the vast ecosystem of page builders for WordPress (Page Builder Summit)


> WordPress Accessibility Day, a 24-hour event dedicated to promoting and learning website accessibility best practices for WordPress websites, will be held on September 27. Registration is free and talks will be live captioned and available after the event on YouTube (WordPress Accessibility Day 2023)
#WPCommunityFeels: Arafat Bin Sultan
A podcast worth listening to: I find Today in Digital Marketing by Tod Maffin very informative and helpful to stay up-to-date with the latest digital marketing news.


A concept worth understanding: Effective leadership is about guiding others towards a shared vision with empathy as a cornerstone. Empathy builds trust, connects diverse perspectives, and creates an inclusive environment. To truly make a difference, leaders must actively listen and understand their team's needs, aligning them with overarching goals. This collaborative approach empowers individuals to overcome challenges, leaving a positive, compassionate legacy that resonates through their impact.


An X account worth following: I believe everyone working in the WordPress industry should be aware of what's happening in the ecosystem. Following WP Tavern on X is a great way to learn the latest in WordPress.


A habit worth forming: Growing the habit of continuous learning is a transformative journey that will enrich our life on multiple fronts. We can start by fostering a curious mindset – asking questions, seeking answers, and exploring subjects beyond our comfort zone. Setting achievable learning goals will help. Over time, this habit becomes second nature, propelling us towards personal growth, adaptability, and a deeper understanding of the world.
Together with GoDaddy Pro
DataPocket: Bridging the WordPress & eCommerce World with Figma, Adobe, & Canva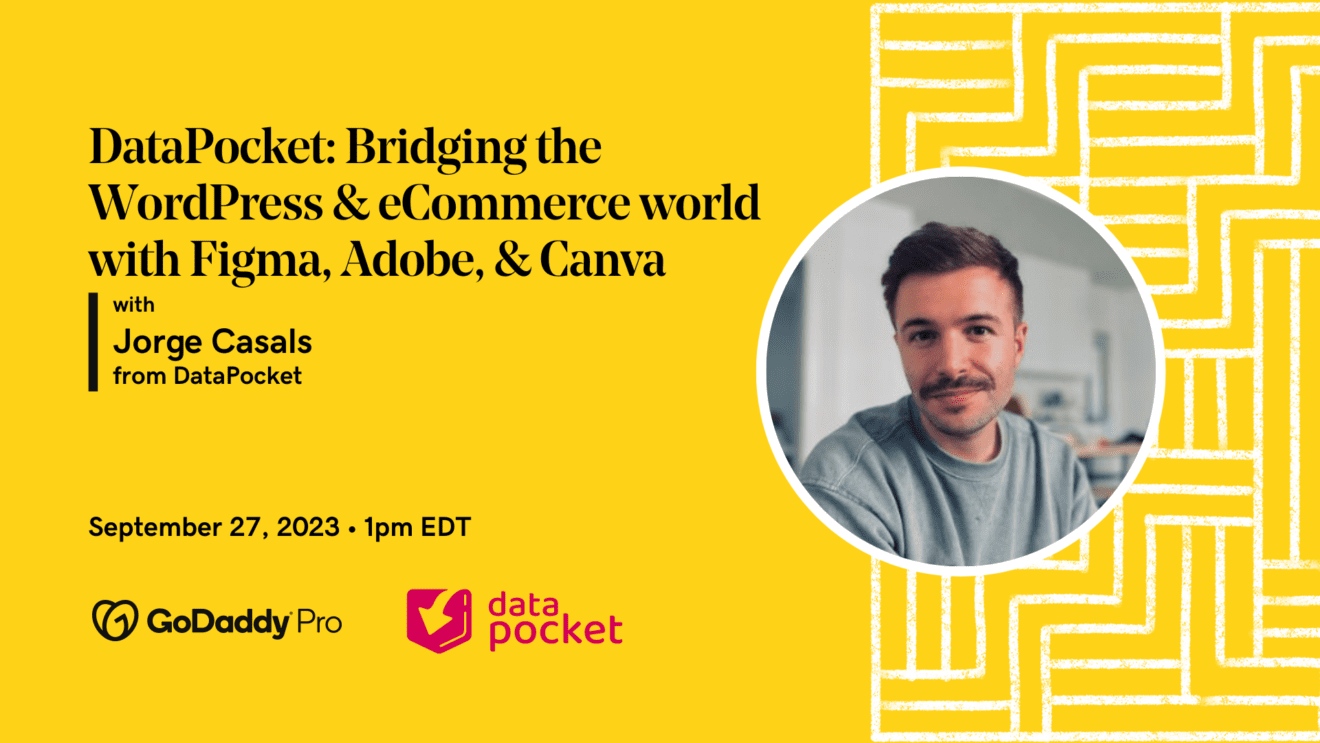 In today's digital game, it's all about the killer combo of design and data. These two are like Batman and Robin for your content creation. So, buckle up and join us for an exciting meetup where we're going to dive deep into this dynamic duo. We'll show you how to supercharge your design skills using real data, and we've got a secret weapon called DataPocket to help you out – it's a top-notch SaaS platform.

Ever wondered how you can make your designs pop on tools like Canva, Figma, or Adobe? Well, we've got the answer right here. In our session, we'll show you the ropes of designing with actual content and trust us, the possibilities are endless.

But wait, there's more! DataPocket isn't just any tool – it's the magic potion that lets you seamlessly integrate external data sources like WooCommerce, WordPress, and more into your content creation flow. Say goodbye to manual data entry headaches and hello to supercharged creativity!

So, don't miss out on this chance to level up your web design and development game. Join us and let's unlock the full potential of your creative process!

This free virtual event is presented by GoDaddy Pro and will take place on Wednesday, September 27, 2023 at 1pm EDT.
Meanwhile...
🏆 Openverse won at the 2023 Open Education Awards for Excellence.
The Repository is a weekly email for the WordPress community by Rae Morey. Also on our team: proofreader Laura Nelson. Thank you to Kinsta, our web hosting sponsor, and MailPoet, our email sponsor.
Send your feedback to

[email protected]

and help us provide high-quality news written entirely by humans that matters to the WordPress community.