Happy Friday! It's September 22 and this week we're covering the WordPress Plugin Reviews Team's stellar progress, the loss of trust in WordPress leadership following last week's #wpdrama, the new addition to the WordPress.org Hosting page, WP Tavern's new forums, and more.
First time reading? Sign up here. Got an opinion? Send your thoughts, feelings and news tips to

[email protected]

.
This week in WordPress
1. WordPress Plugins Review Team launches self-check plugin, announces new reviewers
The backlog is currently sitting at 1,241, a number Gómez says the team is "painstakingly aware of." To help plugin authors fix common problems — and speed up the review process — the team released Plugin Check to WordPress.org earlier today. The plugin allows developers to check their plugins meet the Plugins Review Team's base required standards and, according to Gómez, will soon become a requirement for all new plugins submitted to the repository.


The team has also onboarded three new volunteer reviewers: Gustavo Bordoni (Engineering Manager at The Events Calendar/StellarWP), Gagan Deep Singh (Engineering Manager at rtCamp) and Rob Rawley (Security Advisor at Patchstack and former head of security at DreamHost and Pagely).


"During the last 6 months, the Plugin review team has worked on documenting its processes, training new members and improving its tools. Now, thanks to your patience and support, the tide is about to turn," says Gómez.


The team's hard work is not lost on developer Jacob Martella who posted, "Just want to shout out the #WordPress plugin review team. I know they're doing a lot of hard work with so many plugins to review (and a list that keeps growing). Also, the Plugin Check plugin will be a massive help for plugin authors!"
2. Trust in WordPress leadership eroded in wake of plugin ranking dispute
Last week, concerns about WordPress.com plugin listings outranking WordPress.org on Google search transformed into something much uglier: issues of damaged trust. Specifically, trust in WordPress' Benevolent Dictator for Life, Matt Mullenweg.


"I just want to give a shoutout to @pollyplummer for being one hell of a journalist," posted Pressable's Jeff Matson about Gooding's report. "It must be super hard to write articles like this - having to report on someone who pays her salary. It shows a real commitment to accurate, unbiased journalism."


For more commentary on what Rob Cairns has described as a "WordPress dumpster fire" (tune into The SDM Show for his take):

Matt Medeiros at The WP Minute says when a leader mocks the accomplishments of one person it's not thriving—to use WordPress Executive Josepha Haden Chomphosy's word at WordCamp US 2023—it's soul-crushing.
On the WPwatercooler podcast, the panel discusses Mullenweg's apparent demoralizing approach to leading the WordPress project, and WordPress Marketing Team co-rep Sé Reed shares why she thinks Matt Mullenweg blocked her on X.
GravityView creator Zack Katz believes Mullenweg has violated the WordPress Community Code of Conduct.
Getting back to what started this mess, SEO consultant Jono Alderson added his well-informed voice to the mix last week, advising that WordPress.com plugin pages should be noindex'd: "If the target audience for these pages is indeed mostly logged-in users, then the small opportunity cost of preventing them from being indexed by search engines should be inconsequential," he writes.


3. WordPress.com added to hosting page amidst continued lack of clarity on selection process
According to the ticket, Audrey Capital-sponsored contributor Samuel "Otto" Wood swapped out Siteground with WordPress.com. But as Marius Jensen, Head of Engineering at Dekode, points out, Siteground was removed from WordPress.org/hosting months ago, so it wasn't a case of simply replacing one hosting option with another.


The change comes after the WordPress Hosting Team discussed the content on the "Hosting" page at the recent Contributor Day. But as Hosting Team rep Jess Frick notes in Post Status Slack, the team is waiting to see the results of a hosting survey WordPress co-founder Matt Mullenweg shared in Make WordPress Slack in July.


"We understand that many hosts have submitted responses to the survey, but the Hosting Team does not have access to the responses, nor do we have any timelines or insight as to when changes may take place in response to them. However, we will absolutely do our best to keep everyone informed as we learn more on the process," says Frick.
Sponsor
20i Managed WordPress Hosting →
Easily deploy and manage blazing-fast sites with integrated staging, backups, CDN, cache & WordPress Manager; no bloaty plug-ins required. Expect more from your WordPress hosting.
In other news
WordPress project
> An analysis of the Core Web Vitals performance impact of WordPress 6.3 in the field confirms that WordPress 6.3 has been an important milestone for WordPress performance, according to Google-sponsored core committer Felix Arntz (Make WordPress Core)


> Answers to the seven most highly voted questions from the WordCamp US 2023 Q&A sessions are now available, covering accessibility, outreach to audiences unaware of WordPress, AI, the fediverse, the WordPress Plugins Review Team, and the future of WordPress (WordPress.org Project)


> WordPress developers are being encouraged to contribute to Interop 2024, an initiative that aims to improve interoperability across Chromium, WebKit and Gecko, the three major web browser engines (Make WordPress Core)
WordPress Community
> WP Tavern has launched forums. According to Editor Sarah Gooding, the news site's bbPress-powered forums have been designed to help expand conversations that originate on the Tavern, especially within the comments of posts (WP Tavern) | "I did not have WP Tavern adding forums on my 2023 bingo card," posted writer Eric Karkovack (X)


> In a Q&A with Themeisle's Adelina Tuca, Rahul Bansal, CEO of enterprise agency rtCamp, says success to him means sailing through the recession without layoffs: "It might come at a cost of reduced margin or even burning some of our old savings (situation of negative margin). So our accountant may consider us a failure from a numerical perspective but I will still consider it a success." (Themeisle)


> Software engineer Vagelis Papaioannou shares his journey as an organizer in the Greek WordPress community and project translation lead for the Greek language (WP Tavern Jukebox)


> Destiny Kanno, Head of Community Education at Automattic, discusses the evolution of Learn WordPress and the need for more content creators and translators to help drive the project (Hostinger)
Business, enterprise & acquisitions
> Planning is underway for a Post Status Annual Summit next Fall in Europe. Announcing the summit in Post Status Slack, CEO Cory Miller also made a push for 500 WordPress businesses to support Post Status and help fund the summit by becoming a Charter Business Member. The news comes after the business community site recently revamped its partner directory (Post Status Slack)


> Awesome Motive Partner Thomas Griffin shares OptinMonster's 10-year journey – and how it almost didn't happen after the product's initial launch as a SaaS platform failed, forcing a pivot to a plugin-only product (OptinMonster)
Products & platforms
> Convesio unpacks the history of WooCommerce and how the ecommerce plugin has evolved according to GitHub stats, including the top contributors based on commits, commits across different versions, and security vulnerabilities (Convesio)


> Bob Dunn has teased a first look at the new Do the Woo Podcast Network, releasing the first "official" episode, All Things WordPress, featuring co-hosts Bud Kraus and Mark Westguard in conversation with XWP Director of Technology and Innovation Alain Schlesser about AI (Do the Woo)
Conferences & events
> WooSesh 2023, the virtual conference for WooCommerce store builders, will be broadcast live on October 10-12. This year's theme is "Next Generation Commerce." Registration is now open and the speaker lineup and broadcast schedule are now available. This year's event will also launch "The Seshies," community awards recognizing the best examples of the WooCommerce ecosystem (WP Tavern)


> WordPress Accessibility Day, an independent 24-hour virtual conference, has published its schedule for the upcoming event on September 27. Co-lead organizer Amber Hinds reports that more than 1,248 people have registered for the event so far with attendees across 30 different countries. Approximately 50% of attendees are from the U.S. (WP Tavern)


> Post Status will host the second annual WP Career Summit on October 20. Aimed at job seekers and hiring managers, the virtual event is the only one of its kind focused on careers for WordPress (WP Career Summit)
#WPCommunityFeels: Marta Torre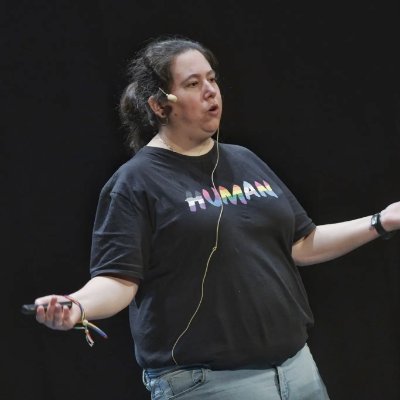 This week, what's inspiring

Marta Torre

, a freelance fullstack developer on open source projects, organizer of the WordPress Santander meetup, #WPDiversity volunteer, and WordPress Plugins Review Team contributor.
A podcast worth listening to: I like to learn about how to take care of our planet and love learning about sustainability in our cities and urban mobility. I think Ride: The Urban Mobility Podcast is great.


A concept worth understanding: Equity is a concept that is a little difficult to understand when it comes to equality, because who doesn't want us all to be equal, right? In the case of equity, it is more about justice for all those people who have fewer opportunities, because equality, whether we want it or not, is sometimes not fair.


An X account worth following: She Code Africa (@SheCodeAfrica) is an organization I've been following since not too long ago when I started doing my own research on other diversities. I love what they do and I am in love with their account.


An article worth reading: I have this great post on diversity by Josepha Haden Chomphosy: A WordPress Dinner Party. I think it's a fabulous post and one that everyone should read.


A habit worth forming: Do 15 minutes of sport a day. It is often difficult to find the time, but 15 minutes is the time that your head understands that it is not a big effort and then you feel much better. Fifteen minutes of sport a day can be done by everyone and it is good for your health, mental health, sleep, performance, work and nutrition.
Together with GoDaddy Pro
DataPocket: Bridging the WordPress & eCommerce World with Figma, Adobe, & Canva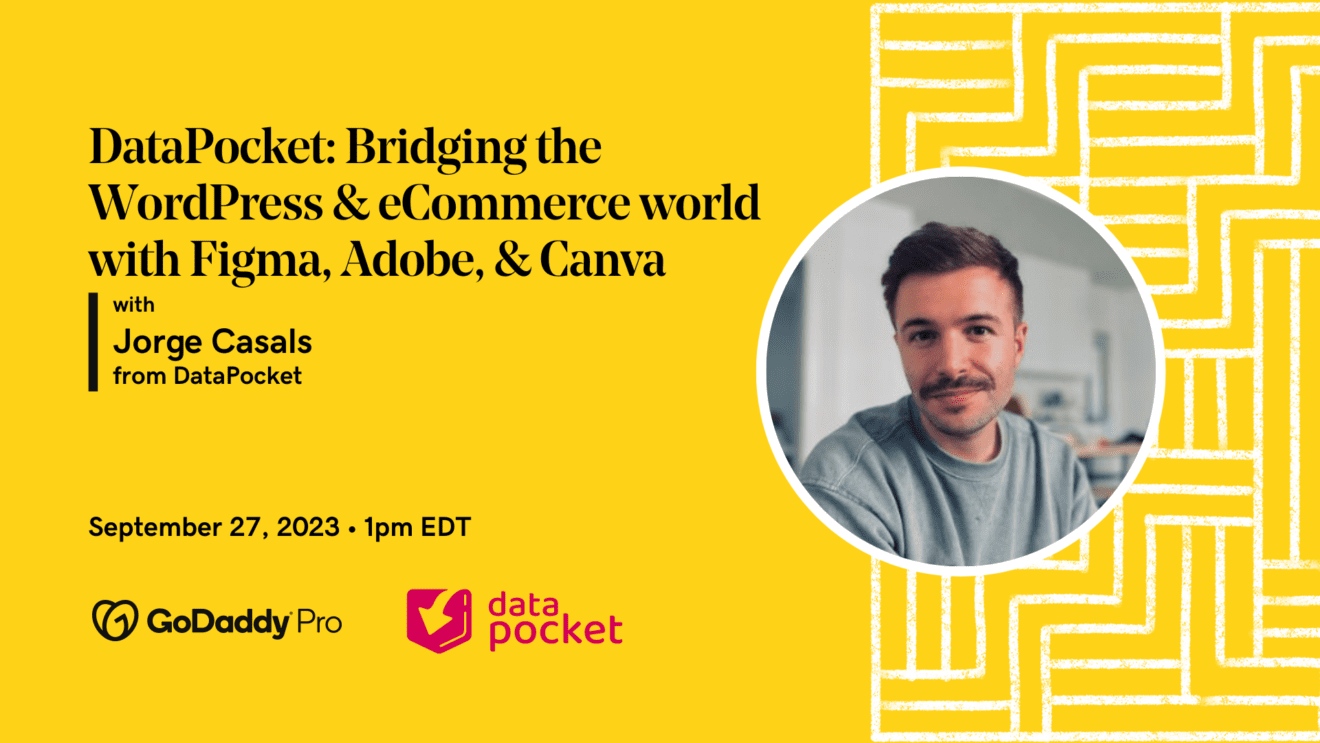 In today's digital game, it's all about the killer combo of design and data. These two are like Batman and Robin for your content creation. So, buckle up and join us for an exciting meetup where we're going to dive deep into this dynamic duo. We'll show you how to supercharge your design skills using real data, and we've got a secret weapon called DataPocket to help you out – it's a top-notch SaaS platform.

Ever wondered how you can make your designs pop on tools like Canva, Figma, or Adobe? Well, we've got the answer right here. In our session, we'll show you the ropes of designing with actual content and trust us, the possibilities are endless.

But wait, there's more! DataPocket isn't just any tool – it's the magic potion that lets you seamlessly integrate external data sources like WooCommerce, WordPress, and more into your content creation flow. Say goodbye to manual data entry headaches and hello to supercharged creativity!

So, don't miss out on this chance to level up your web design and development game. Join us and let's unlock the full potential of your creative process!

This free virtual event is presented by GoDaddy Pro and will take place on Wednesday, September 27, 2023 at 1pm EDT.
Meanwhile...
🍎 Matt Medeiros muses on whether Apple's Journal app is really a blog in disguise.


The Repository is a weekly email for the WordPress community by Rae Morey. Also on our team: proofreader Laura Nelson. Thank you to Kinsta, our web hosting sponsor, and MailPoet, our email sponsor.
Send your feedback to

[email protected]

and help us provide high-quality news written entirely by humans that matters to the WordPress community.