This week in WordPress
"Say hello to more and better"
WordPress 5.4 "Adderley" is here! Named in honor of jazz musician Nat Adderley, the release is packed full of features and improvements for users and developers, alike.
"Say hello to more and better. More ways to make your pages come alive. With easier ways to get it all done and looking better than ever—and boosts in speed you can feel." boasts the official release.
With 2 new blocks, improved UI and clearer navigation, and speed boosts, there's a lot to get excited about. Justin Tadlock has shared a great overview of the release on WP Tavern.


A huge well done to team leads Francesca Marano, Matt Mullenweg, and David Baumwald, along with everyone else involved 👏.


Speaking of those involved with the Adderley release, are you curious about who these fantastic contributors are and where they're from? Luckily for you, there's a website for that.

"Hey, I guess you all know WordPress 5.4 « Adderley » was released earlier today… If you ❤️ stats and charts as much as I do, here are some interesting data about countries, companies and core contributions 📊🌍 https://jeanbaptisteaudras.com/en/2020/03/wordpress-5-4-core-contribution-statistics/" tweets JB Audras.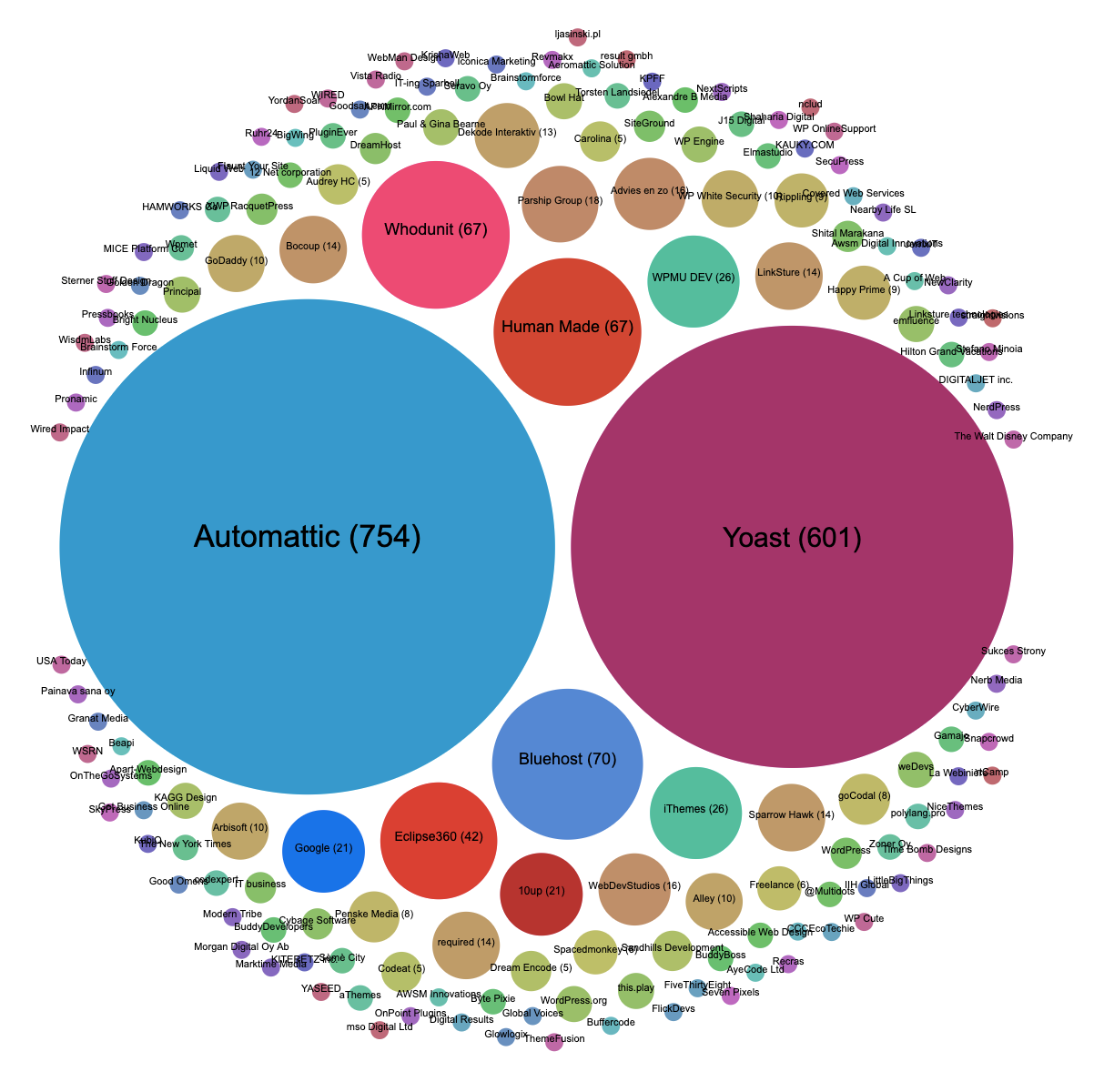 WP 5.4 credits – Companies by contributions. Courtesy of JB Audras.
Super interesting way of seeing how 5.4 came to be!
An update to WordPress Coding Standards
Juliette Reinders Folmer has shared a proposal to define revised WordPress Coding Standards to coincide with new minimum PHP version requirements.


Juliette states, ".... we'd like to define coding standards for a number of these constructs and propose to implement automated checking for these in the WordPress Coding Standards tooling in the near future."


The post continues to outline what some of these changes will be, and their expected usage in WordPress Core.


Juliette is currently welcoming feedback via the comments section of the proposal, and it's certainly sparked some lively debate. While there are still details to iron out, the majority of people seem to agree that this is a step in the right direction for WordPress, including Milana Cap, who comments, "

Thank you

@

jrf

for the work and for this detailed post. It's nice to see all of these being standardised in WordPress."
MailPoet reach 10,000 monthly active senders
WordPress email marketing plugin, MailPoet, hit a pretty significant milestone last month - 10,000 monthly active senders 🎉.

MailPoet's CEO, Kim Gjerstad, has shared how they got there, and what's next for their plugin in his latest blog post.
In other news...
– Is ThemeForest a good place to sell your WordPress themes? The team at Freemius investigate in their latest video. - Sponsored link
– Christina Workman from WebDevStudios has shared ways you can continue your WordPress education and get your community fix virtually, in their new blog post 'Staying Connected to the WordPress Community'.

–

WooCommerce has announced that it's launching a new Marketing Hub! The dashboard is in early stages at the moment, but eventually, it'll give store owners a central place to

launch, manage, and measure their marketing activities.

– Hola, WordCamp España 🇪🇸! The Spanish WordPress Community are getting together to organize a virtual WordCamp experience. Read all about it!
– Does your website footer need a redesign? George from Pixelgrade has shared the creative process behind their footer redesign, and how you can do it too. - Sponsored link

–

Gutenberg 7.8 is here! The release comes with an API for custom block patterns and a block UI redesign.


– The latest podcast from Adam Silver of kitchensinkWP focuses on sales strategies in uncertain times, and contains some valuable tips.
Not subscribed? Join the most conversational weekly email
in the WordPress community!