Happy Friday! It's November 17 and we're wishing Alex Stine well now that he's a WP Community Collective-sponsored contributor, wondering what the heck is going on at Kinsta, and still happy with our choice to switch to the Twenty Twenty-Four theme.
First time reading? Sign up here. Got an opinion? Send your thoughts, feelings and news tips to

[email protected]

. Want to nominate someone for #WPCommunityFeels? Reply to this email and let us know.
This week in WordPress
1. Alex Stine commences WPCC Accessibility Fellowship
Stine will spend the next six months deepening his already impactful work as a rep on the Accessibility Team. He'll also help shape several accessibility-focused WPCC projects, such as an accessibility review of the WordPress site editor and coding sprints, and post regular updates on the WPCC website to give insight into his contributions while supporting the collective's goal to provide transparency around how it works.


Stine, a fully blind contributor and Infrastructure Engineer at Waystar, has been involved with the Accessibility Team since 2016 and is well-known in the community as a vocal advocate.


WPCC president and co-founder Sé Reed says Stine's fellowship comes at a pivotal time for the WordPress project as core development moves into the collaboration phase of the Gutenberg Project. "Accessibility is a crucial part of collaboration, and Alex's involvement over the next six months will be a crucial part of ensuring accessibility isn't an afterthought, but a core objective," says Reed.


The fellowship comes almost a year after Reed, Katie Adams Farrell, and Courtney Robertson launched the nonprofit WPCC to fund individual WordPress contributors and community-led initiatives.
2. Kinsta cuts a third of its workforce
Kinsta has concluded a voluntary round of layoffs, with a third of the company's 350 employees choosing to leave, according to a source at the web host.


Last month, Kinsta offered severance packages to its entire workforce to encourage take-up of voluntary redundancies by November 10. According to the source, 350 employees were listed in the company's CRM before the layoffs and just 240 remained last Friday.


"It seems that about 100 people took the offer. I'm not sure if there will be more people fired," says the source. "In short, a bloodshed. So many amazing people left."


Kinsta's Chief Business officer Tom Zsomborgi told The Repository the privately-held company would not be commenting publicly when asked about the layoffs.


He provided the following statement: "On an ongoing basis, we review the composition and structure of our team to ensure we are able to support our customers and execute our chosen strategy. From time to time, it becomes necessary to move some pieces around to ensure we're set up for success. With this goal in mind, we are making some changes internally right now which will result in some changes to our team."


It's unclear why Kinsta is downsizing, but it follows a relentless wave of layoffs in tech during 2023. GoDaddy laid off about 530 employees in February, cutting roles that impacted teams working on WordPress and Woo hosting products. Enterprise firms XWP and Human Made also laid off workers. At the time, WP Tavern reporter Sarah Gooding wrote about how industry-wide tech layoffs were impacting WordPress professionals.
3. Elementor's pricing changes draw mixed reactions
"Bold pricing shift by Elementor!" posted agency owner Phill Savage this week, referring to the news the company is removing 10 of the 15 advanced features currently available in the lowest tier Essential plan for its popular page builder plugin, forcing new customers who want the features to buy their Advanced Plan for an extra $40 a year.


The features that will no longer be available to new Essential Plan customers include custom code and CSS, form submissions and integrations, and support for WooCommerce, PayPal/Stripe, ACF, and Pods. Existing customers and those who purchase an Essential plan before December 4 won't be affected by the changes.


As Gooding notes in her report, concerned Elementor customers reacted to the news on X/Twitter and in the announcement's comments. Meanwhile, the anti-Elementor crowd responded critically and dismissively: "Don't blame Elementor because its license plans were changed. Just blame yourself because you are using it," posted developer Mauro Bono.


WordPress co-founder Matt Mullenweg also weighed in on the news, indirectly referencing Elementor when he posted, "As Gutenberg gets more capable, non-Gutenberg site builders will likely need to continue raising their prices, as one is in the news for today, to maintain revenue churn in the face of higher churn and fewer new users. I don't this trend will happen for the Gutenberg-based ones."
Business Spotlight: ClickWhale
ClickWhale is the best link shortener & click tracker for WordPress. Easily manage, analyze your affiliate links & create bio link pages for your social media profiles. The all-in-one solution for marketers.
In other news
WordPress project
> This year's State of the Word
will be live-streamed from Palacio Neptuno, a popular event space in Madrid, Spain. Tickets are now available, as well as details on how to submit questions for the Q&A (
WordPress.org News
)
> Jonathan Bossenger
, an Automattic-sponsored training contributor, has shared the minute-by-minute timeline of events that led to the WordPress 6.4.1 rapid maintenance release last week that fixed a Critical cURL/Requests Bug (
Make WordPress Core
)
> Gutenberg 17.0 is now available
and brings improvements to the Command Palette, an alternative implementation of the DropdownMenu component, and additional visual controls for the LinkControl component, in addition to iterating on accessibility and performance (
Make WordPress Core
)
> Mike McAlister (the designer and developer behind the Ollie theme)
reached out to Automattic-sponsored contributor Anne McCarthy (who's been running the Full Site Editing (FSE) outreach experiment) to share feedback around his recent block theme building experience that made the headlines. The pair decided to turn it into a hallway chat to benefit the wider community (
Make WordPress Test
)
> WordPress 6.4 improves server response time by ~4%
over version 6.3.2, according to 10up-sponsored contributor Emily Clarke, the Performance Lead for the latest release (
Make WordPress Core
)
> Jessica Lyschik, who co-led the development of Twenty Twenty-Four
, joined Birgit Pauli-Haack to talk about WordPress 6.4 and the positive received so far about the new default theme (
Gutenberg Changelog
) |
Lyschik and Maggie Cabrera
, who also co-lead the development of the default theme, presented a walkthrough of Twenty Twenty-Four and tips for customizing it during this month's WordPress Developer Hours (
WordPress.tv
)
WordPress community
> Underrepresented in Tech has launched
a new Inclusive Webinar Series to answer the question: What is it like being underrepresented in tech? The series features stories from people who share what it's like to work in tech when you're a black man, someone with a disability, a non-developer, queer, a non-native English speaker, and a young person (
Underrepresented in Tech
)
> The Yoast Community Team is celebrating
100 Yoast Care Fund recipients. Alexander Gounder is the latest recipient, nominated for his contributions to the Indian WordPress community and his work with the Polyglot and Core teams (
Yoast
)
> Doo the Woo's conversation series
featuring folks speaking in their native language puts the spotlight on the Dutch community this week (
Do the Woo
)
> WPVibes co-founder Pooja Derashri
, who recently served as the Test Lead on the WordPress 6.4 release team, will co-rep the WordPress Test Team in 2023-24 after serving as a co-rep on the WordPress Training Team in 2022-23 (
Hostinger
)
AI, innovation & the fediverse
> WordPress co-founder Mike Little
, a Developer Advocate at Human Made, discusses AI ethics, including algorithmic bias, privacy and data protection, and the need for transparency around how AI tools are designed and developed (
Human Made
)
> Matthias Pfefferle
, the open web lead at Automattic and creator of the ActivityPub plugin, discusses the fediverse in a wide-ranging discussion that touches on Mastodon, ActivityPub, and the challenges faced by decentralized networks (
WP Tavern Jukebox
)
Business, enterprise & acquisitions
> WP Engine has launched a quirky series of marketing videos
as part of a year-long in-house brand and creative project starring employees across the company. The web host describes 'WordPress Peace of Mind' as a "true labor of love from the people who actually live and breathe WP Engine's 'we've got your back' ethos." (
WP Engine
)
> Freemius interviewed 18 well-known WordPress entrepreneurs
, including Kevin Stover (co-creator of Ninja Forms), Akshat Choudhary (founder of Blogvault), and Vito Peleg (co-founder of Atarim), to discover their biggest business blunders and what they learned (
Freemius
)
> Ellipsis Marketing has been recognized
with three global awards from leading B2B service provider Clutch. According to Ellipsis Managing Director Alex Denning, "We're on a mission to be the best in the world at SEO Content, and this is an awesome milestone. My thanks to both the team and our clients!" (
Ellipsis
)
> Marketers shouldn't try to measure everything
because people need 6-7 encounters with a brand before making a purchase, writes Post Status columnist Marieke van de Rakt. She says due to this fact, the ROI of a WordCamp sponsorship isn't easily measurable but does have a positive long-term brand impact (
Post Status
)
> Automattic CEO Matt Mullenweg
says there have been zero sales of the company's 100-year plan despite hundreds of people filling out the form. "I think we really messed something up in the follow-up, including not making it self-serve to start. Will review and try again. It's an important promise to us," Mullenweg posted (
X/Twitter
)
> Last month, Syed Balkhi announced
his company Awesome Motive had invested in its first WordPress development agency, Seahawk Media. Yesterday, he explained why: because Seahawk offers white-label WordPress services at scale (
X/Twitter
)
Products, platforms & plugins
> Wordfence has launched a bug bounty program
to provide financial incentives for security researchers to report high-risk vulnerabilities in plugins and themes that have 50,000+ active installations (
WP Tavern
)
> Kadence Blocks recently crossed a significant milestone
, surpassing 400,000 active installs (
X/Twitter
)
> Theme shop ElmaStudio has released Moog
, a free block theme for blogs with 25 style variations to radically change the look and feel (
WP Tavern
)
>
Theme developer Anders Norén
has released Hideo, a free block theme for portfolios and blogs with bold headings, subdued colors, and seven style variations (
Anders Noren
)
> BuddyPress lead developer Mathieu Viet
and BuddyPress core contributor David Cavins joined the Press This podcast to talk about the big changes coming with version 12.0, including the Rewrites API and the ability to create private communities (
Torque
)
Conferences, awards & events
> Kolkata CareerCamp will be the first
next-gen WordCamp in 2024. The January 6 event will include mentorship programs, workshops, presentations, interactive sessions, and networking opportunities. Organizers say they want to provide "a platform for our young guns and give them a guiding hand to navigate their professional journey." (
Kolkata CareerCamp
)
> WordCamp Asia has extended its sponsor application deadline
to November 30 to give companies interested in sponsoring more time to organize travel visas, sort out team member logistics, and finalize 2024 budgets (
WP Tavern
)
#WPCommunityFeels: Adam Weeks
This week, what's inspiring Adam Weeks, co-founder of
Cirrus Influence
and Sponsorships Connector at
Post Status
.
A podcast worth listening to
: I love listening to a good podcast on a walk or doing the dishes. Non-WordPress: I'm currently enjoying
This American Life
and EntreLeadership. WordPress podcast? Too many good friends to choose from, so I will shamelessly plug
Woo Biz Chat
.
A concept worth understanding
: The Communication Matrix: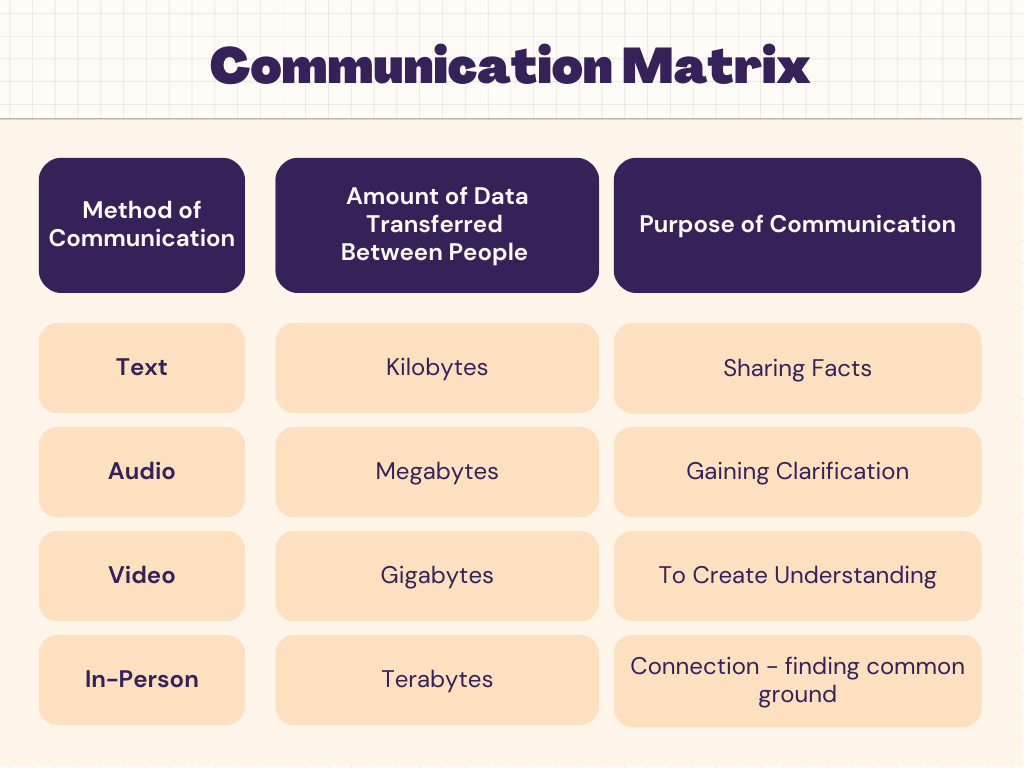 How do we know what form of communication to use? Do not hire or fire someone over text, and sometimes that meeting could have been an email. Essentially, be thoughtful with your communication to be effective and efficient. Also – difficult conversations, don't chicken out, it's unkind to be unclear.


An X/Twitter account worth following: Marcus Burnette (@marcusdburnette) always knows what's going on in the world of WordPress and shares it with all of us for free!


An article worth reading: Jonathan Wold has thought a lot about the business of WordPress. His article Using The Loop To Grow A WordPress Product Company is a great explainer for product companies navigating the WordPress ecosystem and trying to understand how to make it in this business. Success is difficult. We need to lift each other up and partner together where we can.


A habit worth forming: End each shower with at least 30 seconds of cold. Also, say "yes" to people as often as possible while maintaining healthy boundaries.
Meanwhile...
Editor's note: Over the next two weeks, this section will feature a BFCM takeover. Enjoy!
🔍 With the U.S. Justice Department vs. Google making news this week, Yoast unpacks hte search engine's monopoly and how to make it work for you.


The Repository is a weekly email for the WordPress community by Rae Morey. Also on our team: proofreader Laura Nelson and columnist Jonathan Wold (who'll be returning soon, stay tuned!). Thank you to Kinsta, our web hosting sponsor, and MailPoet, our email sponsor.
Send your feedback to

[email protected]

and help us provide high-quality news written entirely by humans that matters to the WordPress community.